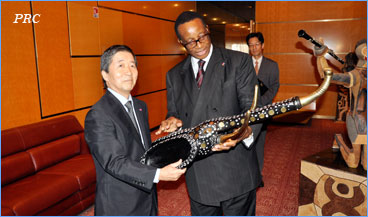 The Japanese Ambassdor to Cameroon H. E. KEIJI YAMAMOTO was granted a farewell audience at Unity Palace at the end of his stay in Cameroon, in the afternoon of 28 September 2011 by the Director of the Civil Cabinet of the Presidency of the Republic, Mr. Martin BELINGA EBOUTOU, on behalf of the Head of State.
Speaking to the press immediately after the audience, H. E. KEIJI YAMAMOTO said that he had come first of all to express his sincere gratitude to President Paul BIYA and to the First Lady for all the consideration he had during his stay in Cameroon. He affirmed that he was leaving Cameroon totally satified that he had properly accomplished his mission, thanks to the support that he received from various personalities. He also expressed his gratitude to the Cameroonian people who displayed their hospitality during his visits to the regions.

A gift was offered the Japense Diplomat at the end of the audience. In his presentation of the gift, the Director of the Civil Cabinet revealed to H. E. KEIJI YAMAMOTO that the elephant represented to the people of Cameroon an animal with a large memory. The significance was that the Head of State will never forget all the good works of the Japanese Ambassador in Cameroon.