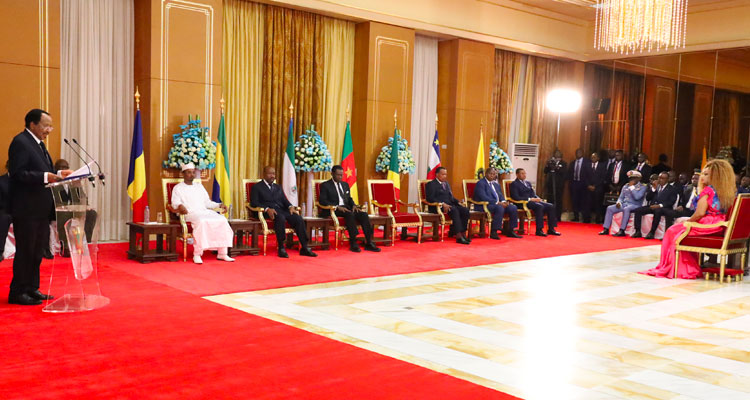 Distinguished Heads of State of CEMAC, Dear Brothers,
Your Excellencies,
Ladies and Gentlemen,
I am very pleased to once again take the floor before you this evening to close our proceedings of today.
My pleasure is all the more justified as the said proceedings have led to the adoption of resolutions which should produce positive effects that will be immediately felt by our people.
Throughout the proceedings, I did   perceive our shared desire to prioritize the interests of the Community.
In this regard, we have made major strides towards improving the efficiency of our community institutions.
We have made headway regarding the measures to be taken to ensure the continuation of the CEMAC Economic and Financial Reforms Programme, the consolidation of our monetary union, strengthening of our structural policies and the improvement of the functioning of our community institutions.
In a nutshell, we assessed the ground covered and the efforts still to be made. The progress noted in the integration of our economies bodes well for the future.  
There is reason to be confident in our Community's ability to rationalize the shared exploitation of our huge resources.
Distinguished Heads of State of CEMAC,
Your Excellencies,
Ladies and Gentlemen,
Despite exogenous constraints, our action during Cameroon's tenure at the helm of our common organization remained focused on pursuing our integration objectives.
We have reached major milestones because community building is a long process. I remain optimistic about its progressive establishment.
At this juncture, I would like to extend my gratitude to all of you, Heads of State and peoples of CEMAC, for your support and confidence throughout my tenure.
I would also like to thank all our development partners for supporting us to achieve the goals we set ourselves within CEMAC.
I extend my heartfelt congratulations to the President of the CEMAC Commission, as well as the heads of all our community institutions, who spare no effort to ensure their smooth functioning.
Lastly, I hail the vitality of all those who contributed directly or indirectly to the preparation and successful conduct of this Summit.
As I hand over the chairmanship of the Conference of CEMAC Heads of State to our Brother, President Faustin-Archange Touadéra, I would like to express our confidence in him and our willingness to work with him for the progress of our Community and in the interest of our brotherly peoples.
I am convinced that under his leadership, our Community will win more victories on the path to its integration and economic emergence.
While wishing all delegations a safe return to their respective countries, I declare closed, the 15th Ordinary Session of the Conference of CEMAC Heads of State.
Thank you for your attention.