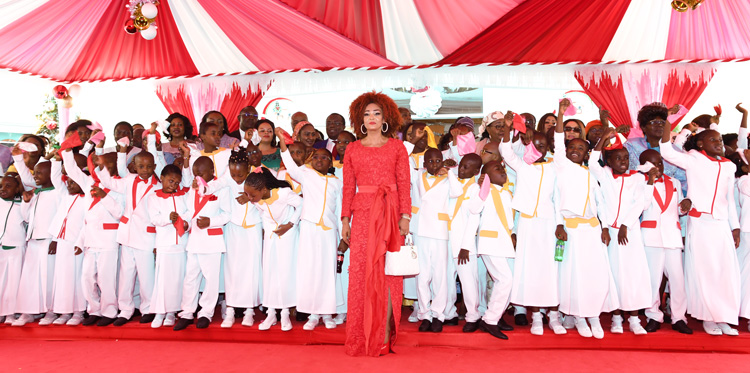 The 2019 Christmas Tree Lighting ceremony at "Les Coccinelles" school complex on 19 December was another opportune occasion for the patroness to commune with the pupils and convey best wishes.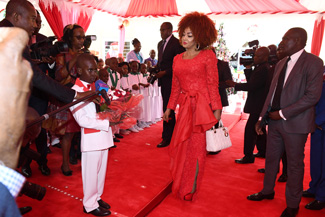 All the pupils, who were colourfully dressed, went home with special packages offered by Mrs Chantal BIYA to celebrate the nativity of Jesus Christ with their respective families. Some members of government, close collaborators of the Head of State, spouses of state dignitaries, and some guests assisted the First Lady in the smooth distribution of the Christmas gifts.
The jubilant glee on the faces of the recipients was an expression of gratitude towards their benefactress who relentlessly supports them in their ultimate quest for knowledge.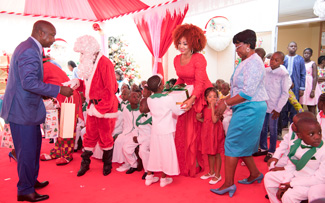 Mrs Chantal BIYA made a tour of the classrooms of the institution that is found at the premises of Unity Palace. She carefully looked through the work done by the children in the first term of the 2019/2020 academic year. The First Lady congratulated the pupils and their teachers, and encouraged them to continue in excellence.
Prior to the distribution of the presents, the pupils happily sang a couple of Christmas carols, recited poems, presented sketches, and danced to the rhythms of two artistes – Papy the Next and Faya Love. They also staged a traditional ballet from the Moungo division of the Littoral Region entitled "Le Ngono".