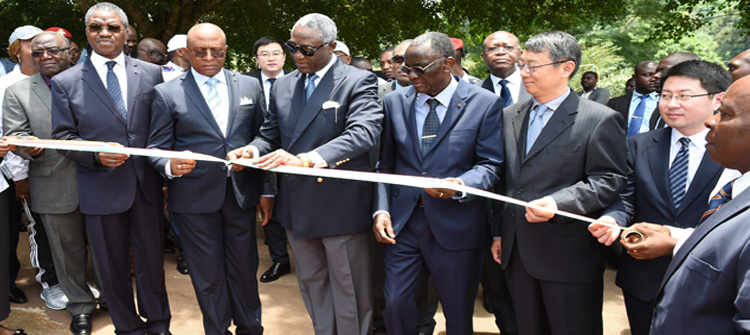 On 22 September 2018, the Minister, Director of the Civil Cabinet of the Presidency of the Republic, Samuel Mvondo Ayolo, presided over a ceremony to inaugurate a fitness centre at the "Parcours Vita" in Yaounde. It was revealed that the facility, worth CFAF 100 million, is a gift donated by the Head of State for the physical development of the population in the Yaounde City Council.
This highly symbolic ceremony was attended by the Ambassador of the People's Republic of China to Cameroon, His Excellency Wang Yingwu, and representatives of Huawei.
In his occasional address, the Minister, Director of the Civil Cabinet recalled that "the Parcours Vita was created by the Head of State as an ideal space to rally Cameroonians from all walks of life through sports." Thus, this special gift is aimed at upgrading the services offered at the Yaounde "Parcours Vita" after its last renovation in 2012. The Minister, Director of the Civil Cabinet announced that the "Parcours Vita" facilities in Douala and Bamenda will soon benefit from the same largesse of the Head of State. He urged the managers of the centre, security officials and the entire sports public to preserve this precious jewel, by denouncing all acts of vandalism.
Finally, Minister Mvondo Ayolo thanked the Chinese Government and the top management of Huawei for their partnership.
On behalf of the people of the capital, Mr Gilbert Tsimi Evouna – the Government Delegate to Yaounde City Council thanked the Head of State for his great gesture and promised to make good use of the new complex.