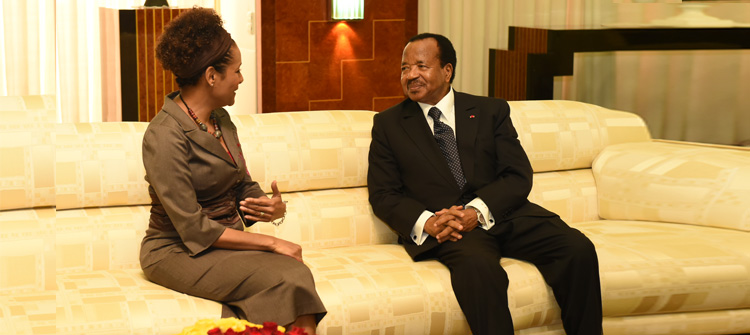 The Head of State His Excellency Paul BIYA has lauded the distinguished university career, remarkable media activity and the highly successful tenure of the position of Governor General of Canada by Mrs. Michaëlle JEAN, during a state lunch offered by the President of the Republic and Mrs. Chantal BIYA at Unity Palace on Tuesday 14 April 2015. In his toast, President Paul BIYA praised the Secretary General of the International Organisation of la Francophonie for her actions and determination, high qualities which earned her the post she now occupies.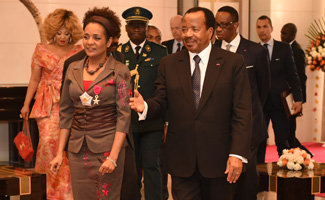 Mrs. Michaëlle JEAN, who arrived Cameroon on Monday 13 April 2015 for a four day official visit, was at Unity Palace for an audience and a state lunch which constitute the hallmarks of her stay in Cameroon. 
In her response to the toast pronounced by the Head of State, the Secretary General of la Francophonie was very thankful to the Head of State for the warm welcome and the high attention given to her by the Presidential Couple. She was particularly grateful with the award of the medal of Grand Officer of the Order of Valour, which was given to her at the end of the audience with the Head of State.  Mrs. Michaëlle JEAN said that her entire life was led by the quest for valour, before admitting that as a girl from Haiti, with ancestral roots in Africa, she really feels at home in Cameroon.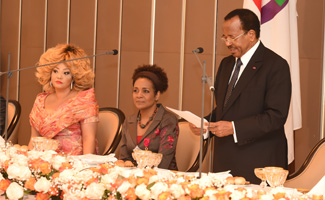 The Secretary General of the International Organisation of la Francophonie has a very busy schedule during her official visit in Cameroon, including a meeting with youths at the Congress Hall, meetings with women and business persons at the Hilton Hotel, visits to the Nkolfoulou refuge dump, Elecam and the Francophonie University Agency, a lecture at the IRIC and the award of a Doctorate Honoris Causa at the University of Yaounde I. She will round up with a press conference before heading back to the base of her organisation in Paris.