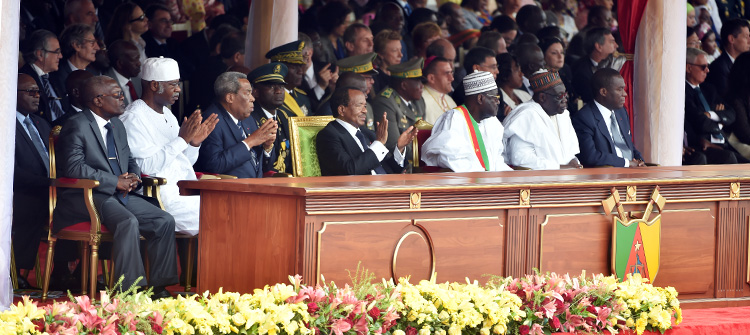 The Head of State His Excellency Paul BIYA presided over an impressive and very colourful march past in the nation's capital on 20 May 2016. The military and civilian parades at the 20th May Boulevard marked the culmination of activities to celebrate the 44th edition of the National Day.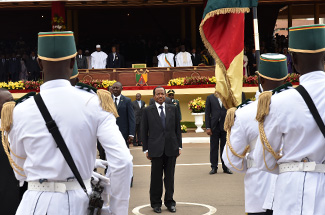 Celebrated under the theme "Defence Forces and Dynamic forces of the Nation, standing together to combat terrorism and preserve peace and territorial integrity", this year's celebration came in the wake on the International Economic Conference aimed at boosting the economic growth of the country.
President Paul BIYA arrived at the 20th May Boulevard on schedule at 10 a.m. and the ceremony immediately kicked-off with military honours followed by the military parade. The various units of the Armed Forces displayed their marching skills and the flare and discipline that are hallmarks of the military. A detachment of troops from Niger took part in the parade this year and their participation was highly applauded by Cameroonians.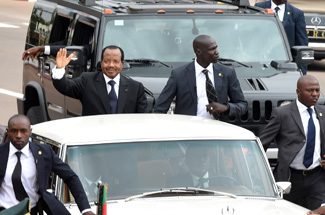 After the military parade, the civilian march past led by schools and other youth groups. Their enthusiasm and patriotic fervour was displayed in song and gestures that were harmoniously executed. The political parties represented in parliament rounded off the civilian parade.
An air show and a torchlight procession on 19 May 2016 were actually part of the National Day celebrations that came a day earlier. These events as usual were heartily enjoyed by the citizens of Yaounde and the other cities in the country that organised similar activities.
The Head of State and his wife Mrs. Chantal BIYA will receive guests at Unity Palace in the evening to round off the celebrations.