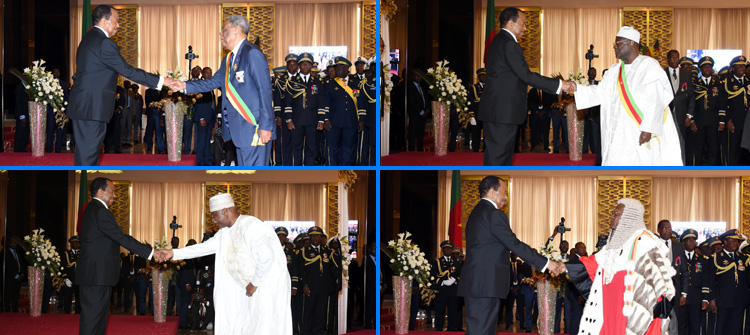 Members of the Diplomatic Corps and National Dignitaries have presented 2018 New Year wishes to the President of the Republic, His Excellency Paul BIYA. A two-phased ceremony to that effect was organised at the Unity Palace on 4 January 2018.
As Dean of the Diplomatic Corps, H.E. Paul Patrick Biffot, the Ambassador of Gabon to Cameroon addressed best wishes to the Head of State, First Lady Chantal BIYA, their family and all Cameroonians. Ambassador Paul Patrick Biffot praised President Paul BIYA's leadership in the preservation of peace and unity in Cameroon.
In response, H.E. Paul BIYA saluted the confidence bestowed on Cameroon by its international partners. He appealed for the rekindling of a conciliatory spirit among States and lauded the positive results recorded by the Multinational Joint Task Force in the war against Boko Haram. The Head of State called for greater solidarity around the world; especially in the fight against terrorism, migration, and climate change. He also condemned the growing sense of protectionism in the world, which if not addressed, could have a negative impact on the global economy.
The second phase of the ceremony was accorded to national dignitaries. It was characterised by a series of handshakes from 17 delegations. The President of the Senate, the Speaker of the National Assembly, the Prime Minister and Head of Government, and the President of the Supreme Court led their delegations. A similar format was respected by close aides of the Head of State led by the Secretary General at the Presidency of the Republic and the Director of the Civil Cabinet.