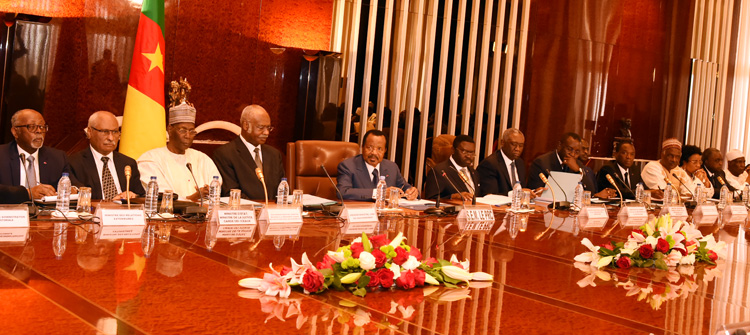 The President of the Republic, His Excellency Paul BIYA chaired a Council of Ministers meeting at the Unity Palace on Thursday 15 March 2018. This was the first contact with Members of Government after the 2nd  March cabinet reshuffle.
In his special message, the Head of State laid emphasis on the need to: combat insecurity in the Far North, North West and South West Regions; accelerate the decentralisation process; and ensure the smooth organisation of upcoming elections in Cameroon.
The putting in place of the Constitutional Council and the hosting of the Africa Cup of Nations were also highlighted.
President Paul BIYA asked that measures should be taken to reinforce the performance of the economy, improve the living standards of all Cameroonians and reduce unemployment. Priority should also be accorded to the provision of basic necessities like water, electricity, health facilities and the construction of road infrastructures.
Firm instructions were given to the Members of Government to use State resources rationally and intensify the fight against corruption.
The Head of State congratulated the new set of Ministers as well as those maintained in Government. He also advised them to work in solidarity and in strict respect of hierarchy – for the general interest of the population.
Download the address by the Head of State (pdf)