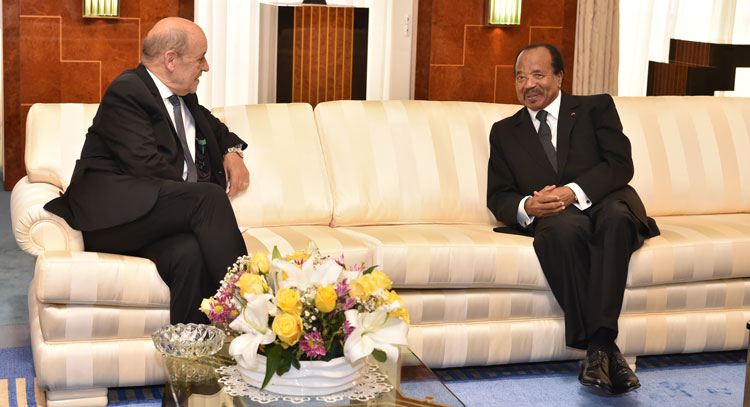 The historic and excellent bond between Cameroon and France witnessed a major boost on 23 October 2019 when President Paul BIYA received Jean-Yves Le Drian, French Minister of Europe and Foreign Affairs at the Unity Palace.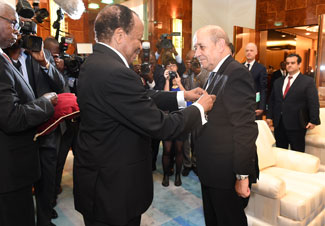 Speaking to journalists after the over one hour audience with the Head of State, Minister Jean-Yves Le Drian said both parties have found a common ground to revitalise cooperation ties in all fields.
He highlighted that his maiden visit, under the auspices of his current office, was a follow-up to the bilateral meeting President Paul BIYA held in Lyon with his French counterpart – H.E. Emmanuel Macron on 10 October 2019. They met on the sidelines of the Global Fund's Sixth Replenishment Conference against HIV, tuberculosis and malaria.
In addition, the French Minister of Europe and Foreign Affairs appreciated the fact that Cameroon is transiting smoothly into a period of reconciliation after the organisation of the Major National Dialogue.
He announced that France will accompany Cameroon in its drive towards the restoration of peace and serenity.  
President Paul BIYA decorated Minister Jean-Yves Le Drian with the medal of Grand Officer of the Order of Valour at the end of the audience.
The French Ambassador to Cameroon, H.E. Christophe Guilhou was part of the delegation that accompanied Minister Jean-Yves Le Drian to the Unity Palace.
Cameroon is a viable and strategic actor in the fight against terrorism in the Lake Chad Basin, and the fight against piracy in the Gulf of Guinea. The country's hospitality and contribution to humanitarianism has equally been demonstrated towards hundreds of thousands of refugees from neighbouring countries like the Federal Republic of Nigeria and the Central African Republic.