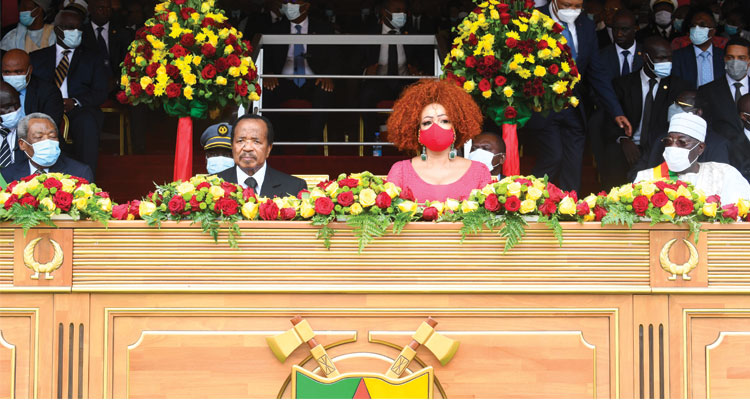 Cameroonians from all walks of life commemorated triumphantly the 50th anniversary of the National Day on 20 May 2022. The highlight of the festivities was a lively military and civilian march past organised at the emblematic 20th May Boulevard in Yaounde – under the watchful eyes of the President of the Republic, Commander-in-Chief of the Armed Forces, His Excellency Paul BIYA and First Lady Chantal BIYA.
The golden jubilee of the Unitary State – established after the 20 May 1972 referendum that dissolved the Federated States – was celebrated under the theme: "Defence and security forces at the service of the people, in preserving social peace and national cohesion, a guarantee for an emerging Cameroon".
A brilliant musical interlude by the national military band opened the ceremony with lyrics that hailed the reliable loyalty and supreme sacrifice of the Defence and Security Forces for safeguarding the territorial integrity of Cameroon.
This was followed by a delightful military parade coordinated by Brigadier General Agha Robinson Ndong, Commander of the third combined military region, with headquarters in Garoua.
A detachment of the Congolese Armed Forces from Brazzaville – special guests of the event – thrilled the public with their majestic footsteps. This undeniably portrayed the strong fraternity and growing integration that exist among the countries of the central African sub region.
The civilian parade equally earned huge applauses from the public as pupils, students and members of political parties represented at the Parliament marched and chanted patriotic songs. Each group used the solemnity of the occasion to express enthusiastically and proudly their adherence to the ideals of the Unitary State, a one and indivisible Cameroon and the judicious leadership of President Paul BIYA.
It was a befitting National Day celebration based on the magnitude of the event and the exigencies of the of the COVID-19 pandemic.