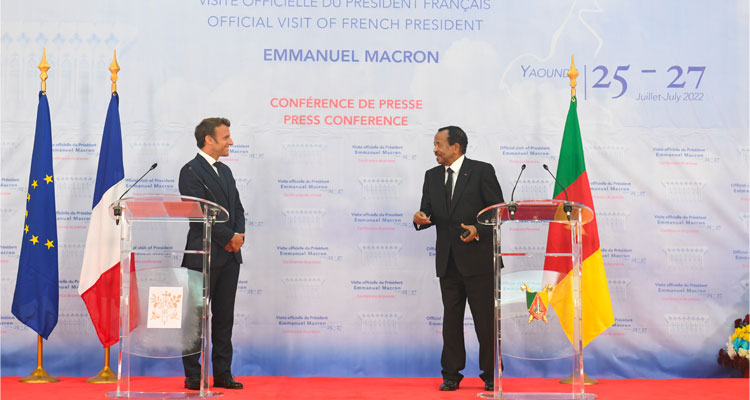 A new and promising chapter will soon open to deepen the strong and historic diplomatic relations that bind the Republic of Cameroon and the French Republic. This important development was disclosed on 26 July 2022 by Presidents Paul BIYA and Emmanuel MACRON in a joint press conference held in Yaounde.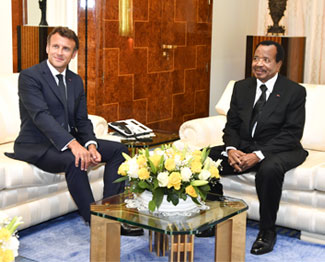 Both leaders who met at Unity Palace, for the first time, exchanged views during a two-hour tête-à-tête where they agreed to revive and diversify their strategic partnership on key sectors such as agriculture, security in the Gulf of Guinea, industrial and infrastructural development, good governance, digital economy and education.
In his preliminary declaration, H.E. Paul BIYA revealed that they also touched on the global repercussions of the Russia – Ukraine conflict.
"President MACRON and I are of the opinion that everything must be done to achieve a rapid cessation of hostilities. For this to happen, the logic of confrontation must give way to that of conciliation and dialogue," he emphasised.
The Cameroonian Head of State hailed the great quality and solidity of the long-standing cooperation ties that exist between Cameroon and France. He said their discussion has fortified the determination to work tirelessly for a more fruitful and mutually beneficial relationship.
H.E. Paul BIYA thanked President Emmanuel MACRON for the multifaceted support that France has offered – both in terms of security, particularly in the fight against terrorism, and in economic and financial terms.
On his part, President Emmanuel MACRON – who is on his first international tour to Africa since the start of his second mandate, said he will concentrate on the strengthening of bilateral ties between Yaounde and Paris. He explained that Cameroon is a strategic partner in the sub-region.
H.E. Emmanuel MACRON praised the path taken by the Government of Cameroon to fully implement the decentralisation process, which is considered as a real solution to the socio-political situation in the North-West and South-West Regions.
The French President also highlighted his admiration for young Cameroonians whose excellence and talent are a pride of the country. He promised to enlarge the scope of training programmes in order to help them harness their skills. He equally announced the putting in place of a committee comprised of historians from both countries that will have full access to French archives. This will help to establish the true nature of pre and post independence Cameroon.
Before his departure from the Unity Palace, President Emmanuel MACRON and his delegation were treated to a special luncheon offered by H.E. Paul BIYA and First Lady Chantal BIYA.