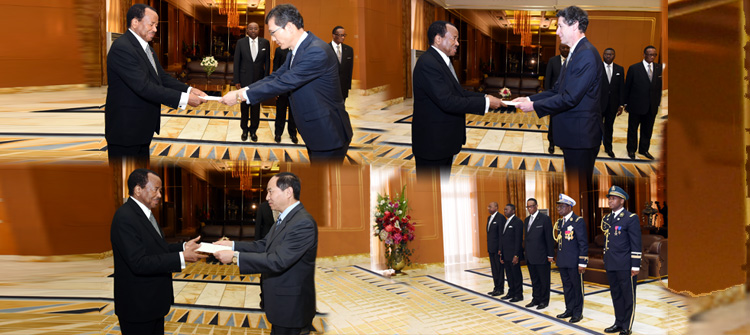 The Head of State His Excellency Paul BIYA received the Ambassadors of Korea and China and the High Commissioner of Canada to Cameroon during separate elaborate ceremonies at Unity Palace on Tuesday 6 January 2015. The colourful diplomatic ceremonies mark the official beginning of duties for the Heads of Diplomatic Mission accredited to Yaounde.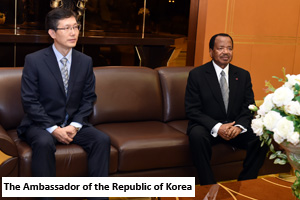 It started at mid-day with the Ambassador of the Republic of Korea to Cameroon, H.E. LIM JAE-HOON who received military honours in the courtyard of Unity Palace before meeting the Head of State to whom he handed the letters appointing him as Korea's Ambassador to Cameroon.
H.E. Rene CREMONESE, the Canadian High Commissioner to Cameroon was next in turn, and the same pomp and pageantry displayed by the band of the Presidential Guard was also accorded to him.  After handing his credentials to President Paul BIYA, the Canadian diplomat was treated to an audience before he left Unity Palace.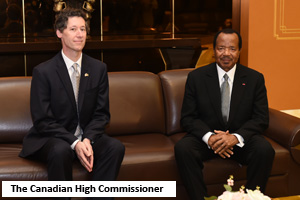 The new Chinese Ambassador to Cameroon, who arrived the country a few hours earlier then finalised the accreditation ceremonies by accomplishing the same rituals that his colleagues went through. It must have been a very hectic day for H.E. WEI WENHUA who replaces Ambassador WO RUIDI as the Ambassador of the People's Republic of China to Cameroon.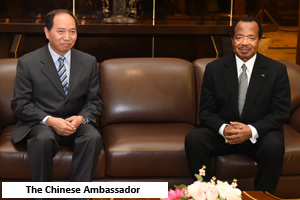 President Paul BIYA was assisted throughout the ceremonies by his close collaborators: Pierre MOUKOKO MBONJO, the Minister of External Relations; Ferdinand NGOH NGOH, the Secretary General at the Presidency of the Republic; Martin BELINGA EBOUTOU, the Director of the Civil Cabinet; Air Force General Emmanuel AMOUGOU, Chief of Staff of the Special Command; and Colonel Raymond Jean Charles BEKO'O ABONDO, Commander of the Presidential Guard.