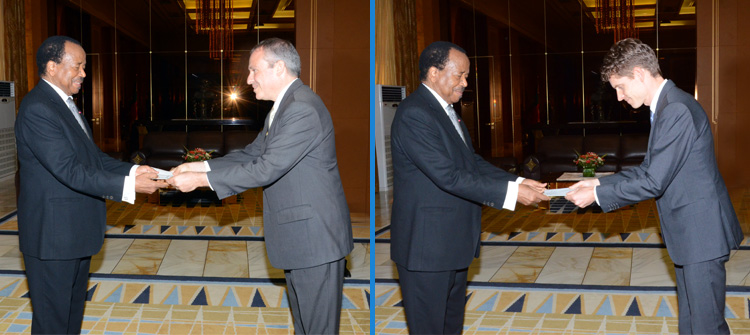 The President of the Republic, H.E. Paul BIYA, has received two Letters of Credence from the new ambassadors of Israel and the Kingdom of Belgium. This ceremony took place on Wednesday 9 November 2016 at the Unity Palace.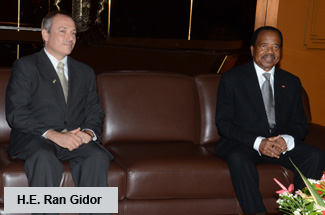 His Excellency Ran Gidor, the new Israeli Ambassador to Cameroon, opened the event. He takes over from H.E. Nadav Cohen. Prior to his appointment in Cameroon, Ambassador Gidor served at the Israeli Ministry of Foreign Affairs. He was a senior adviser and director at the Political Affairs Unit in charge of the United Nations.
Bilateral relations between Cameroon and Israel were opened in 1960.
Both countries have significant ties through: cultural exchanges; the transfer of knowledge and experience in agriculture, technology, and medicine; and the social integration of minorities. Recent projects; short and long term, have also led to the provision of potable water and the development of renewable energy.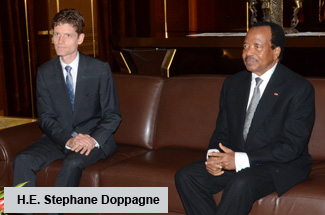 The second phase of the ceremony was with H.E. Stephane Doppagne, new Ambassador of the Kingdom of Belgium to Cameroon. The Belgian diplomat previously held the position of Consulate General in Lubumbashi (DRC). He replaces H.E. Jan De Bruyne.
Cameroon and the Kingdom of Belgium have maintained cooperation ties since 1960.
Belgium has an embassy in Yaounde and a consulate in Douala, while Cameroon's embassy in Brussels is headed by H.E. Daniel Evina Abe'e since June 2008.
The Head of State was assisted by his close collaborators. These included: the Minister of External Relations, Mr Lejeune Mbella Mbella; the Secretary General of the Presidency of the Republic, Mr Ferdinand Ngoh Ngoh; the Director of the Civil Cabinet, Mr Martin Belinga Eboutou; the Defence Chief of Staff to the President of the Republic, Air Force Brigadier General Emmanuel Amougou, and the Commander of the Presidential Guards, Lt. Col. Raymond Jean Charles Beko'o Abondo.