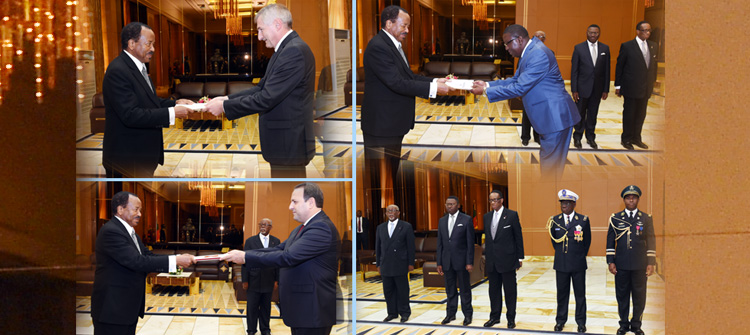 The Head of State His Excellency Paul BIYA received letters of accreditation on Thursday 12 November 2015 from the Ambassadors of Germany, Senegal and Turkey, in a continuation of diplomatic ceremonies that started the day before at Unity Palace.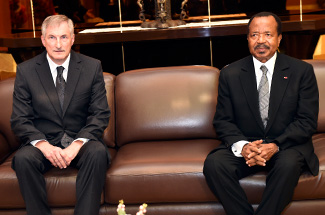 The sumptuous diplomatic ritual started today with the arrival of the new German Ambassador to Cameroon, H.E. Holger MAHNIKE, who is coming to take over from Klaus-Ludwig KEFERSTEIN. Before his appointment to the prestigious position of German Ambassador to Cameroon, Holger MAHNIKE was a Head of Division at the German Ministry of Foreign Affairs.
Germany and Cameroon have strong cooperation ties that have lasted over 40 years. Since independence, Germany has always supported the development efforts of Cameroon with contributions that estimated at more than 906 million Euros, which is 595 billion Francs CFA. Cameroon is one of the 50 countries in the world around which German development cooperation is centred.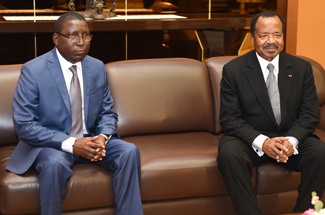 The next diplomat to hand in letters of accreditation was H.E. Vincent BADJI, Senegalese Ambassador to Cameroon. Senegal enjoys close friendly cooperation ties with Cameroon as there is mutual respect and trust on both sides. Though their embassy in Cameroon was closed in 1994, it was re-opened in July 2007 and has been fully functional since then.
In the early afternoon, it was the turn of H.E. Hüsnü Murat ÜLKÜ, the new Ambassador to Turkey to Cameroon, to present his letters of accreditation to President Paul BIYA. The new Ambassador earlier served in Africa as the Turkish Ambassador to Burkina-Faso in 2013.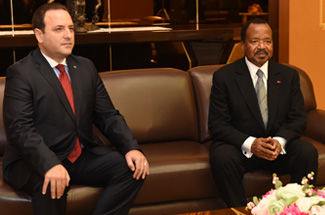 Diplomatic relations between the two countries have been strong since the exchange of high level visits. It should be recalled that President Abdullah GÜL paid an official visit to Cameroon in 2010. On his part, President Paul BIYA went on a State visit to Turkey from 25 to 28 March 2013. During these visits, Cameroon and Turkey signed several cooperation agreements in the domains of the economy, defence, communication and diplomacy.