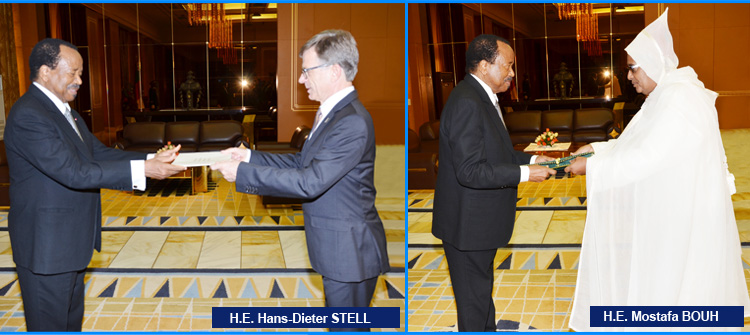 The President of the Republic of Cameroon, His Excellency Paul BIYA has received letters of credence from two new ambassadors; H.E. Hans-Dieter STELL of Germany and H.E. Mostafa Bouh of Morocco. They presented their credentials to the Head of State at the Unity Palace, on Tuesday 16 May 2017.
H.E. Hans-Dieter STELL was born on 24 February 1955 in Wuppertal. The holder of a PhD of Philosophy previously served as the Consulate General of Ho Chi Minh City – Vietnam (2013-2016).
Meanwhile, H.E. Mostafa BOUH is a 60-year-old Moroccan Diplomat, trained in international relations and communication. Since 2011, he was Morocco's Ambassador to the Federal Republic of Nigeria, and Representative to the Economic Community of West African States (ECOWAS).
President Paul BIYA was assisted in both ceremonies by his close collaborators.