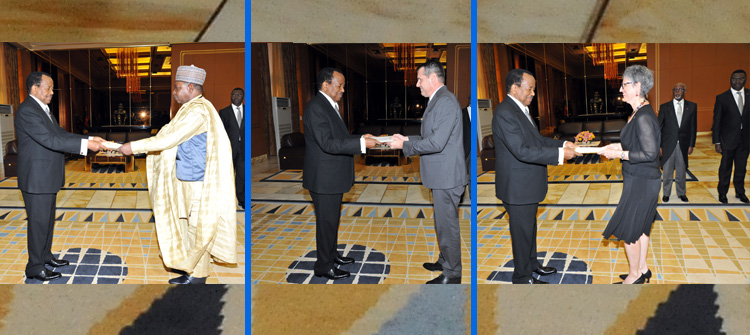 The High Commissioner of the Federal Republic of Nigeria, as well as the one of Canada and the Swiss Ambassador to Cameroon presented their accreditation letters to the President of the Republic His Excellency Paul BIYA during three colourful diplomatic ceremonies at Unity Palace on Wednesday 20 December 2017.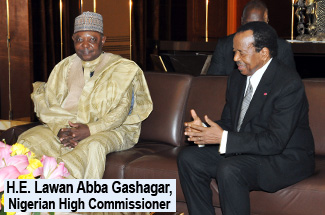 The new Nigerian High Commissioner to Cameroon, H.E. LAWAN ABBA GASHAGAR, who takes over from HADIZA MUSTAPHA, was the first to present his credentials to the Head of State. The Nigerian diplomat was awarded, like his other counterparts, with full military honours, and had in-camera discussions with President Paul BIYA on issues of common interest to the two countries.
Cooperation between Yaounde and Abuja is very intense as there have been high level exchanges between the two countries in the past two years. While President Paul BIYA visited Nigeria two times in 2016, the Nigerian Head of State visited Cameroon in July 2015. Cameroon and Nigeria have security cooperation in the Multinational Joint Task Force, which is a response to the terrorist attacks of Boko Haram. The two countries also have agreements in the economic sector, notably in hydrocarbons and commerce.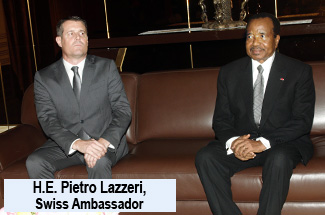 H.E. Pietro LAZZERI, the new Swiss Ambassador to Cameroon came next. Before coming to Cameroon, he was the closest collaborator of the Swiss Ambassador to Rome, from May 2013 to July 2017. He will definitely continue the cooperation which has so far been manifested in several sectors in Cameroon: the setting up and functioning of the Institute of International Relations (IRIC); the training of Social Affairs workers; the financing of the SEMRY and Ombessa integrated development projects; the bridge over the Sanaga River; etc.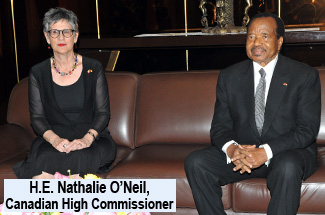 The third diplomat of the day, H.E. Nathalie O'NEIL, the Canadian High Commissioner to Cameroon, presented her letters of credence to the Head of State shortly after mid-day. Cameroon and Canada have diplomatic ties since 1962 and enjoy the common heritage of belonging to both the Commonwealth and la Francophonie, two international groupings where they are shining examples of linguistic and cultural diversity. The two countries have cooperation ties especially in the domains of agro-industry, pharmaceuticals, infrastructure, mines, mechanical equipment, textiles and wood.