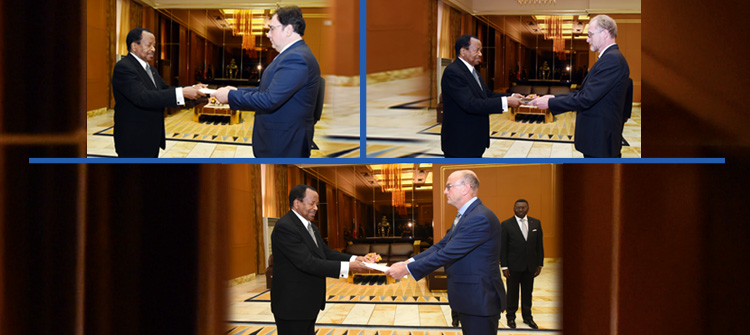 The Head of State His Excellency Paul BIYA received letters of accreditation from three more diplomats this Thursday 21 December 2017 at Unity Palace.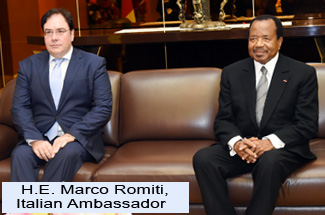 The new Ambassador of Italy to Cameroon, H.E. Marco ROMITI was the first to be received by the President of the Republic. He has come to strengthen the cooperation ties between Cameroon and Italy, relations that moved into very high gear following the exchange of high level visits between President Paul BIYA, who visited Italy from 20 to 22 March 2017 and the Italian President Sergio MATTARELA who visited Cameroon from 17 to 20 March 2016.
Italian companies are very active in Cameroon, such as the PICCINI Company which is presently constructing the modern sports stadium in the Olembe neighbourhood of Yaounde, a structure that is expected to host the 2019 AFCON. Other Italian companies are in various sectors such as wood, leather, marbles and agro industry.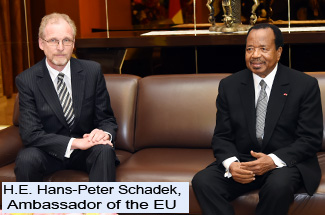 The next diplomat to take part in the colourful diplomatic ceremony was H.E. Hans Peter SCHADEK, the Ambassador of the European Union. The EU is one of the major development partners of Cameroon, funding several infrastructure projects all over the national territory. Cameroon signed the Economic Partnership Agreement with the EU in 2009, a mark of the intense commercial links between Cameroon and the European Union.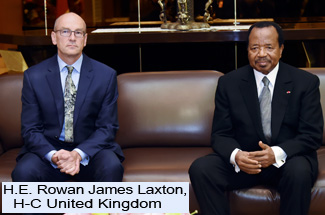 His Excellency Rowan James LAXTON, the new High Commissioner for the United Kingdom and Northern Ireland presented his accreditation letters to President Paul BIYA, a moment of honour for a longstanding partner of Cameroon, as the two countries have strong historical links. They also both belong to the Commonwealth of Nations, whose Secretary-General is presently on an official visit to Cameroon. The UK has also been very clear about its support for a peaceful and united Cameroon.