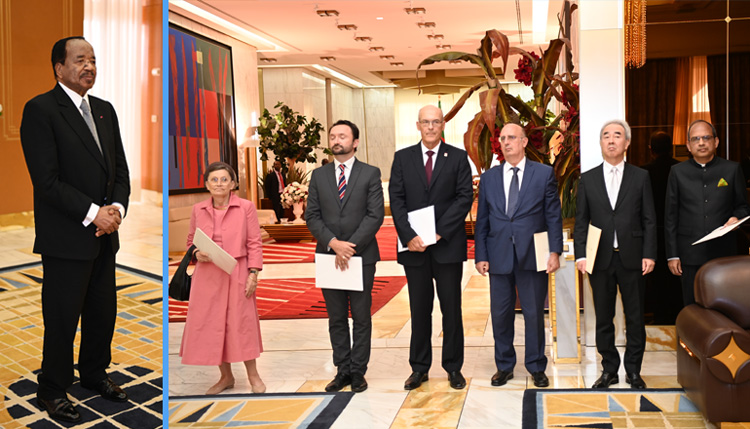 The high level diplomatic ceremony at Unity Palace this Monday 5th June 2023 involved the representatives of six countries who came to present their credentials to the Head of State, His Excellency Paul BIYA.
The kick-off started with the arrival of Her Excellency Corinna Fricke, Ambassador of the Federal Republic of Germany to Cameroon, who inspected the guard of honour and followed the execution of the national anthem of Cameroon in the courtyard of Unity Palace.
She was closely followed by the High Commissioner of the United Kingdom of Great Britain and Northern Ireland, His Excellency Christian Dennys-Mcclure. Then His Excellency Martin Strub, the Ambassador of Switzerland; His Excellency Filipo Scammacca Del Murgo, the Ambassador of Italy; His Excellency Nozomu Takaoka, the Ambassador of Japan; and His Excellency Anindya Banerjee, the High Commissioner of India to Cameroon.
The six diplomats then took turns to present their credentials to the President of the Republic, in a solemn diplomatic ritual that seals their appointment as representatives of their countries to Cameroon.
Their departure from the Unity Palace also followed their order of arrival, with each ambassador reviewing the guard of honour after the execution of the respective national anthems of their countries.
The band of the Presidential Guard, in a highly professional manner, gave colour and sound to the occasion that marks a crucial stage in the receiving of new ambassadors in Cameroon.