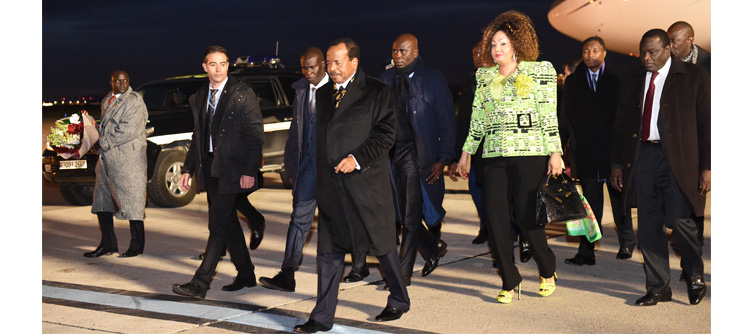 The Head of State His Excellency Paul BIYA and his wife Madam Chantal BIYA arrived the French capital Paris on Saturday 28 November 2015 where he will join other world leaders for the 21st UN conference on climate change.
At the invitation of French President François HOLLANDE and UN Secretary General Ban KI-MOON, President Paul BIYA is coming with a high level delegation to make Cameroon's position clear on this serious matter. The target set by our country is to reduce our toxic gas emmissions by 32% by 2035.
The Presidential Couple were received on arrival in Paris by the Chargé d'Affaires at the Cameroon Embassy in Paris, Jean Joseph ATANGANA, as well as a huge crowd of CPDM militants who came to express their support of the President and his wife.
The commitment of  Cameroon to the fight against climate change is clearly manifested by the presence of the Head of State at this summit and by the measures taken by the Goverment to ensure sustainable and environment friendly development.