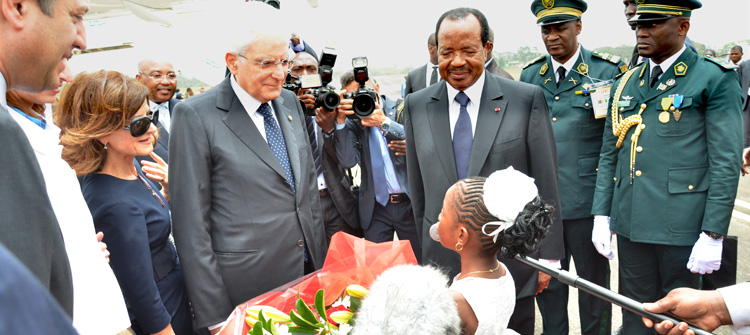 The President of the Republic of Italy His Excellency Sergio MATTARELLA was received on arrival at the Nsimalen International airport by the Head of State His Excellency Paul BIYA in a bright and colourful ceremony that shows the friendly cooperation ties between the two countries. The event included a beautiful bouquet of flowers, full military honours and a twenty-one gun salute that makes concrete the state visit accorded to the high guest of honour.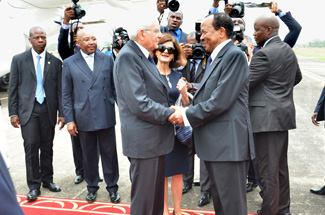 Present at the airport besides President Paul BIYA for the welcome ceremony were senior state authorities: the President of the Senate, Marcel NIAT NJIFENJI; the Speaker of the National Assembly, CAVAYE YEGUIE DJIBRIL; Prime Minister Head of Government, Philemon YANG; the Minister of External Relations, Lejeune MBELLA MBELLA; the Secretary General of the Presidency of the Republic, Ferdinand NGOH NGOH; the Director of the Civil Cabinet, Martin BELINGA EBOUTOU; the Italian Ambassador to Cameroon, Samuela ISOPI; and Cameroon's Ambassador to Italy, Dominique AWONO ESSAMA. Several members of Government, members of the Diplomatic Corps accredited to Yaoundé and other high personalities were also to welcome the Italian President.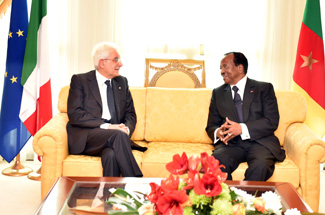 President Paul BIYA and the Italian President had a brief chat in the Presidential Lounge, and then had a heart-warming moment with the huge crowd of CPDM militants who turned out at the airport to show warmth and hospitality to the guest of honour, before taking their motorcade ride into the city centre.
The Italian President, Sergio MATARELLA, will have head on talks with President Paul BIYA during which they will review the close and friendly cooperation ties between Cameroon and Italy. It is expected that several cooperation agreements will be signed by the two Governments in an effort to boost this cooperation.
A state dinner offered by the Head of State and Mrs. Chantal BIYA in honour of the Italian President will take place in the evening at the banquet hall of Unity Palace. It will be another occasion for the visiting Italian President and the high level delegation accompanying him to once more enjoy the hospitality and diversity of Cameroon.