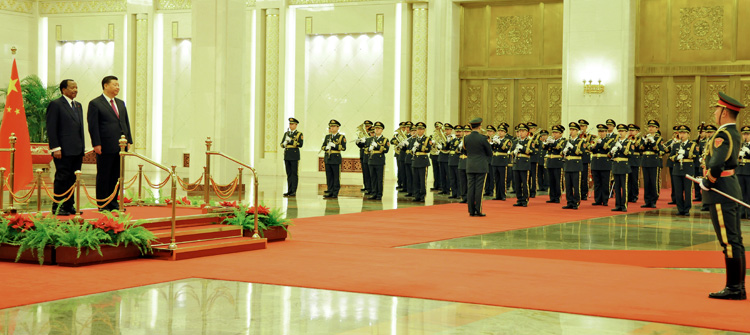 The President of the Republic, His Excellency Paul BIYA and Mrs. Chantal BIYA received a magnificent welcome from the President of the People's Republic of China – H.E. Xi JINPING and his wife at the Great Hall of the People in Beijing. This marked the start of the Cameroonian leader's three-day State visit to the brotherly and friendly country.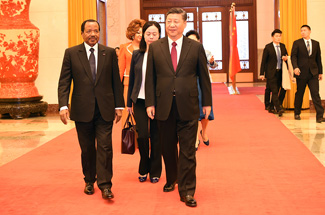 The colourful welcome ceremony organised for the Head of State by the Chinese authorities comprised several elements: the red carpet fully deployed, a detachment of the Chinese Army in very bright ceremonial uniforms, the execution of the national anthems of Cameroon and China, an inspection of the guard of honour by the two leaders, 200 Chinese children shouting with joy as the two Presidents walked by, the presentation of the two official delegations to the two Heads of State and, to crown it all, a patriotic Cameroonian song by the Chinese Army exalting the actions of President Paul BIYA at the helm of Cameroon.  
It is the 6th visit President Paul BIYA is making to China since 1987. His last visit took place from 20 to 27 July 2011.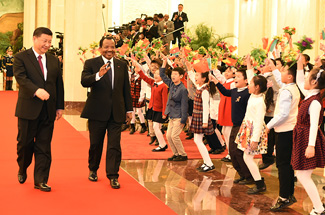 Mr. Alamine Ousmane Mey, Cameroon's Minister of the Economy, Planning and Regional Development singed five cooperation agreements on behalf of Cameroon with some Chines authorities, in the presence of the two Heads of State.
The Cameroonian and Chinese delegations held an in-camera meeting at the Great Hall of the People – Beijing – shortly after the welcome ceremony. The Head of State thanked the Chinese Government for their hospitality. He highlighted the satisfactory depth of Sino-Cameroon relations, while presenting a solid case for more Chinese investments. President Paul BIYA equally tendered an open invitation to H.E. Xi JINPING for him to pay a visit to Cameroon.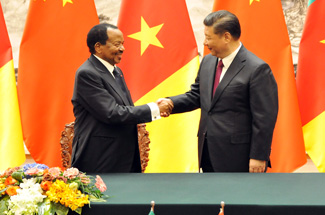 It should be noted that the Head of State is the first foreign leader to be received in Beijing following the re-election of President Xi JINGPING for a second five year mandate five days earlier by the Chinese parliament. This is eloquent testimony of the high esteem the Chinese authorities have for Cameroon and for President Paul BIYA.
Mrs. Chantal BIYA and the wife of the Chinese President had time for cordial discussions in a separate setting.
Cameroon's Presidential Couple was received earlier at the Beijing International Airport by a powerful delegation, which was led by Cameroon's Ambassador to China, Martin Mpana, the Chinese Vice-Minister for African Affairs, Chen Xiaodong, the Chinese Ambassador to Cameroon, Wei Wenhua, the African diplomatic corps in Beijing and a massive presence of the Cameroonian community in China.
The first day of President Paul BIYA's State visit ended with a banquet offered in honour of the Cameroonian Couple by the Chinese President and his wife.