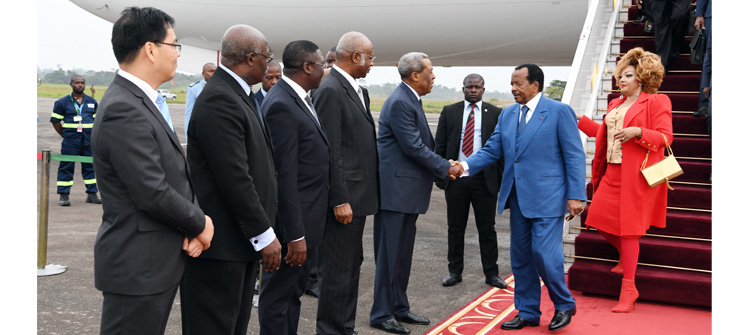 The President of the Republic, His Excellency Paul BIYA and his wife, Mrs. Chantal BIYA are back in Cameroon, after a three-day State visit to the People's Republic of China. The Presidential Couple landed at the Nsimalen International Airport on 26 March 2018 at 5:42 p.m. local time.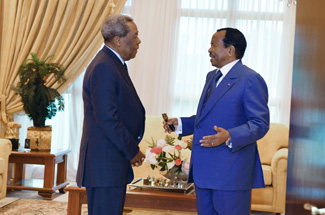 This visit to Beijing and Shanghai marked a major turning point on the solid Sino-Cameroon relations, which have always been designed on a win-win partnership. In fact, its constancy was recognised by President Xi JINPING, who elevated Cameroon's Head of State to the rank of "A Great Friend of China". Both leaders who met for the first time, sharpened cooperation ties with five development agreements. These include:
1) An economic and technical cooperation agreement between the governments of Cameroon and China;
2) A memorandum of understanding on the development of human resources;
3) A protocol agreement to reinforce cooperation on infrastructural development between the Chinese Ministry of Trade and Cameroon's Ministry of the Economy, Planning and Regional Development;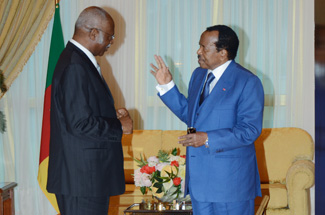 4) A capacity-building framework agreement on production between the National Development and Reform Commission of the People's Republic of China and Cameroon's Ministry of the Economy, Planning and Regional Development;
5) A Concessional Loan agreement between the Exim Bank of China and Cameroon to cover phase two of the potable water supply project in nine towns in Cameroon.
It should be noted that an enthusiastic crowd of traditional dancers – mainly CPDM members – was equally present at the airport to heartily welcome the Presidential Couple. Their animation set the pace for a series of audiences granted to the following officials: the President of the Senate – Mr. Marcel Niat Njifenji; the Prime Minister and Head of Government – Mr. Philemon Yang, the Secretary General at the Presidency of the Republic – Mr. Ferdinand Ngoh Ngoh, the Secretary General of the Central Committee of the CPDM – Mr. Jean Nkuete; and the Chargé d'Affairs at the Chinese Embassy in Cameroon.