The First Lady Mrs. Chantal BIYA attended a special event on 11 July 2015 at the Yaounde Conference Centre during which "Miss Cameroon 2015" was selected from a group of young Cameroonian beauties. The UNESCO Goodwill Ambassador for Education and Social Inclusion encouraged the 24 aspirants as she clapped each time they came out on the podium to display their beauty. This was also an occasion for the wife of the Head of State to reaffirm her support for the culture and youths of Cameroon.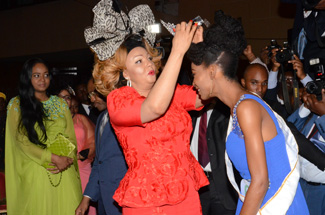 It was with a lot of emotion that the winner of the day, Jessica Lidie Ngoua Nseme of the Littoral Region claimed the trophy of "Miss Cameroon 2015" from the hands of the First Lady of Cameroon, a high honour for the young woman at the age of 24. 
The other 23 candidates were also very brilliant, hence they all received encouragement from Mrs. Chantal BIYA.