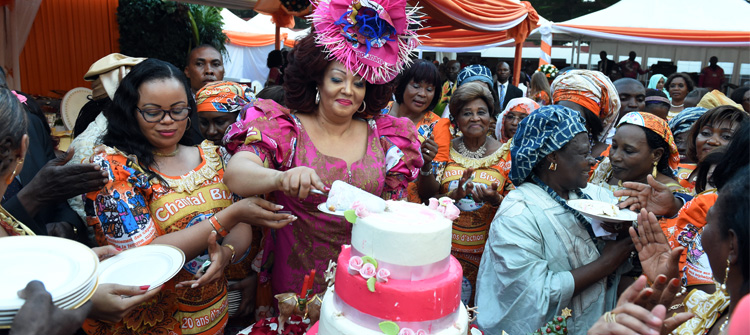 The 2015 session of the General Assembly of the Circle of Friends of Cameroon, better known by the French acronym CERAC, held on Wednesday 16 December 2015, presided over by Madam Chantal BIYA, Founder/President of the association, in the presence of the General Coordinator, Madam Linda YANG as well as the members of the executive board of the national and diplomatic wings of the association.
Looking back at the first 20 years of CERAC, Madam Linda YANG, while opening the deliberations, lauded the very positive record of the association. She equally paid glowing homage, on behalf of the Founder/President, to the pioneers who worked tirelessly besides Madam Chantal BIYA to realise the many successes and a sound reputation for the association which goes beyond our borders.
The year 2015 was a very difficult one for CERAC, especially because of the tense security context in Cameroon. Nevertheless, the plan of action laid out at the end of last year was executed to an acceptable level, to the satisfaction of all and to the great joy of the beneficiaries.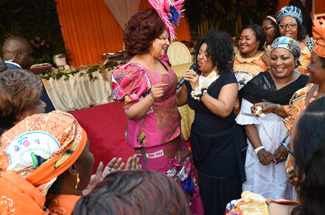 A minute of silence was observed in honour of the several civilian victims, the members of the Armed and Security Forces who fell at the war front in the fight against Boko Haram and also some members of the association who died during the last twelve months.
In the course of the deliberations, several new members who joined either the national or the diplomatic wing of the association were introduced.
As a prelude to Christmas festivities, a group of orphans in Yaoundé received gifts from Madam Chantal BIYA.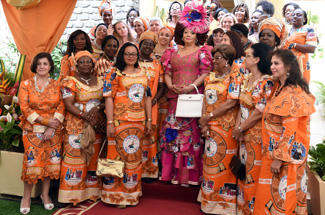 A reception with over one thousand guests around Madam Chantal BIYA closed the activities of the CERAC general assembly, including members of the association, members of Government, Administrative and Political Authorities of Yaoundé and the special invitees of Madam Chantal BIYA.
CERAC women presented a marvellous fashion parade that included dresses from the 4 cultural zones of Cameroon. The diplomatic wing of the association also joined in the fashion parade.
The ceremony saw the participation of several artists: Mani Bella, Richard Amougou, Ama Pierrot, Sergio Polo, Grace Decca, Krystle Georges Amoa, Lady Ponce, Ama Pierrot, K-Tino, Sam Fan Thomas, LAB'L and Isnebo.