Mrs Chantal BIYA received 2020 New Year wishes from the spouses of the Diplomatic Corps and National Dignitaries on 10 January 2020.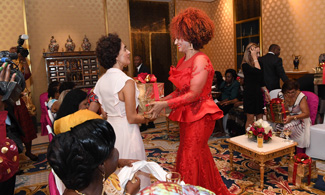 The First Lady opened the event with a tour of all the canopies before her solemn encounter with the wives of heads of diplomatic missions and international organisations accredited to Yaounde.
Mrs Annie Biffot, wife of Gabon's Ambassador to Cameroon and the Dean of the Diplomatic Corps handed over a bouquet of flowers to Mrs Chantal BIYA at the start of the event. She appreciated the First Lady's contribution towards the empowerment of vulnerable persons and her husband's charisma that has helped in the economic stabilisation of the sub region.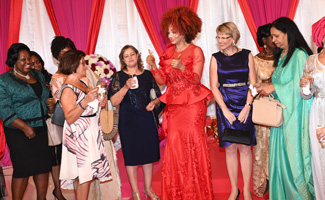 This was followed by hearty handshakes from members of 27 delegations that constituted the spouses of the national constituted corps.
This included among others the wives of:
-      the bureau of the Senate;
-      the bureau of the National Assembly;
-      Members of Government;
-      the bureau of the Economic and Social Council;
-      the Constitutional Council;
-      the bureau of the Supreme Court;
-      Female parliamentarians;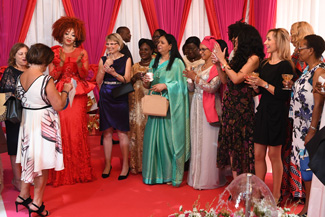 -      a delegation of the CPDM Central Committee;
-      female mayors;
-      officials of the ministry of defence;
-      Generals of the second section;
-      Officials of state corporations;
-      a delegation of trade unionists;
-      the rectors of the universities of Yaounde I and II;
-      administrative and religious authorities;
-      businesspersons;
-      senior officials of the Ministry of Defence;
-       officials of the Presidency of the Republic;
-       CERAC members;
-       Chantal BIYA Foundation, CHRACERH and the Centre for the Research and management of HIV/AIDS;
-       Trade unionists;
-       Business women;
-       Journalists;
-       Special guests;
-      and a delegation of the Baka and Bororo communities.