Heads of State and Government of some ECCAS member countries are already in Yaounde for the COPAX Summit scheduled to hold in Yaounde on 16 February 2015. The arrivals started at 1:20 pm on Sunday 15 February when a special flight bringing in the Prime Minister of Sao Tome and Principe touched down at the Yaounde Nsimalen International airport.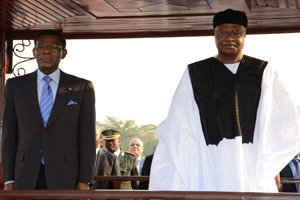 The interim President of the Transition in Central African Republic Madam Catherine SAMBA-PANZA came in next aboard a plane bearing the insignia of the UN. Her presence was equally remarkable from the number of her compatriots who were anxiously awaiting her arrival.
President Teodoro OBIANG NGUEMA MBASOGO of Equatorial Guinea flew in by 4:30 pm and was given the same cordial welcome received by the other guests.
Prime Minister Philemon YANG received all of them on behalf of the President of the Republic His Excellency Paul BIYA. They had full military honours as the band of the Presidential Guard executed the national anthems.
It is expected that the other leaders will arrive Yaounde on Monday morning for this very crucial summit that is devoted to the eradication of the Boko Haram terrorist group that is not only wrecking lives and property in Nigeria, but also in the neighbouring countries, especially Cameroon, Niger and Chad.