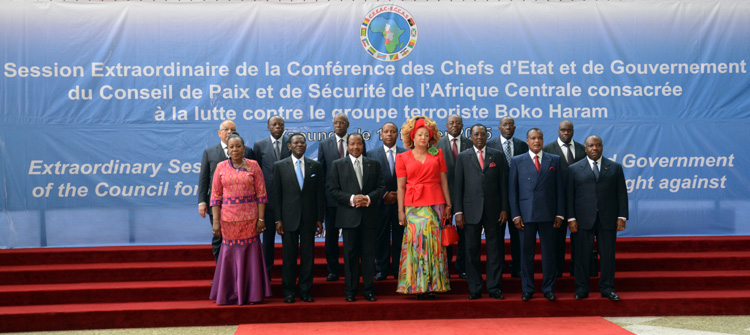 The Head of State His Excellency Paul BIYA has made it clear that the ideology and conduct of Boko Haram is incompatible with humanity and must therefore be completely crushed. Speaking at the opening ceremony of the summit he also lauded the Chadian support consisting of an important contingent of soldiers fighting alongside Cameroonian troops in the Far North region of Cameroon.
President Idriss DEBY ITNO warned the Boko Haram terrorists that the fire they lit will consume them. The Chadian President sent out the warning in his opening speech at the COPAX extraordinary summit hosted in Yaounde by President Paul BIYA and attended notably by President Teodoro OBIANG NGUEMA MBASOGO of Equatorial Guinea, President Denis SASSOU NGUESSO of the Republic of Congo, President Ali BONGO ONDIMBA of Gabon and the Transition President of the Central African Republic Madam Catherine SAMBA-PANZA.
The meeting at the Yaounde conference centre kicked off with a word of welcome from the Government Delegate to the Yaounde City Council, Gilbert NTSIMI EVOUNA, who called on participants to set out clear targets for the fight against Boko Haram. The Secretary General of ECCAS, Ahmad ALLAM-MI described the Yaounde summit as a historic moment to take decisions on the fight against the nebulous Boko Haram. 
Representing the President of the African Union Commission Dr. NKOSAZANA DLAMINI ZUMA, General MOUKOKO said that the Yaounde extraordinary summit was a demonstration of the determination of the member countries to fight Boko Haram. For his part, the representative of UN Secretary General Ban KI-MOON said it was unfortunate that the terrorists are attacking African countries just when all of them are making tangible efforts to build roads, schools, hospitals and other infrastructure to improve the living standards of their population.
President Idriss DEBY ITNO, in his capacity as the current President of ECCAS, made the opening speech in which he also called on all the other member countries not yet attacked by Boko Haram to assist the others as only a collective effort can yield the desired results.
The session was adjourned and the Heads of State and Government had a group picture before going in for a closed door session. They will later have lunch at Unity Palace before continuing their deliberations.