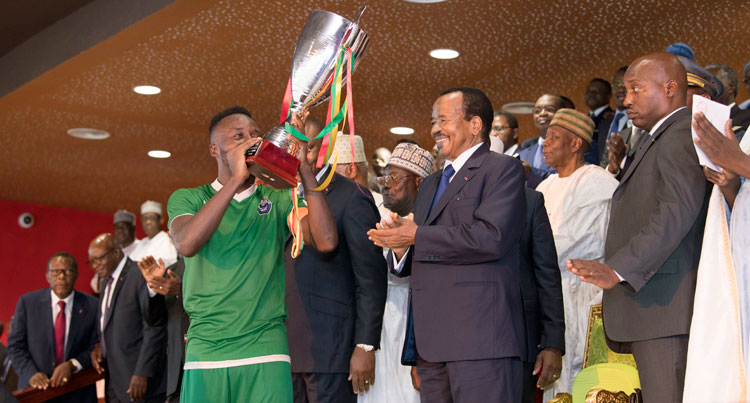 Pierre Francis Baliang's goal at the 13th minute was enough for Eding Football Club of Lekie to triumph over "Lion Blessé" of Fotouni at the Yaounde Omnisports Stadium on 2 December 2018.
The new champions received the coveted trophy of the 59th edition of the Cameroon Cup finals from the President of the Republic, His Excellency Paul BIYA.
This was the Head of State's first public outing after the 6 November swearing-in ceremony. It was also a special occasion for President Paul BIYA to commune with the actors of Cameroon's sports movement, and preside over the end of the 2018 sports season.
Apart from the Cameroon Cup trophy, H.E. Paul BIYA awarded 77 prizes to the winners of sports competitions – recognised by the Ministry of Sports and Physical Education.
Tradition was respected as 700 students of the General Leclerc High School performed prior to the start of the game. Their spectacular display was a beautiful blend of sports and culture; with patriotic messages on peace, unity and the indivisibility of Cameroon.