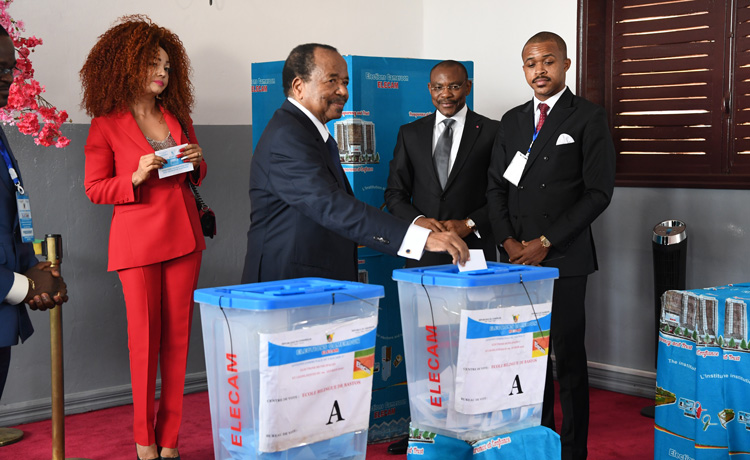 The President of the Republic His Excellency Paul BIYA and Mrs. Chantal BIYA have carried out their civic duties as they voted in the legislative and municipal elections of 9 February 2020. The vote at the Government Bilingual Primary School Bastos in Yaounde at noon was a testimony of their commitment to the success of the democratic process in Cameroon.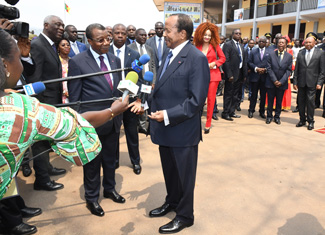 Speaking to the press immediately afterwards, the Head of State expressed his satisfaction with the advancement of democracy in Cameroon. He pointed out the importance of the present elections, which will be followed by the election of regional councillors, another major step in the progress of our democracy.
A mammoth crowd of jubilant spectators and well-wishers were on hand to cheer on the presidential couple. Several international and national observers were present at the site to witness the peaceful and transparent nature of the elections.
**************
President Paul BIYA's Statement to the Press.
Question:
Your Excellency the President of the Republic, what is your general feeling after having completed your civic duty?
Answer:
 It is a feeling of joy and satisfaction. I have accomplished my civic duty and I am happy about it. I seize this opportunity to call on all my compatriots to do same, contrary to calls for boycott by some small political parties. In any case, democracy works in Cameroon and it is advancing satisfactorily. Thus, I congratulate all Cameroonians.
Question:
What importance do you attach to these elections which are holding after the Major National Dialogue, and after the establishment of a special status for the North-West and South-West Regions?
Answer:
Like I said, democracy is making giant strides in Cameroon. There was the Major National Dialogue, there are the laws on decentralisation, the special status, and bilingualism and soon, we shall also elect the regional councillors after the municipal elections. This is the big step towards a more developed democracy. I am satisfied and I thank Cameroonians for their dynamism and support for the institution of this great democracy.
Thank you.