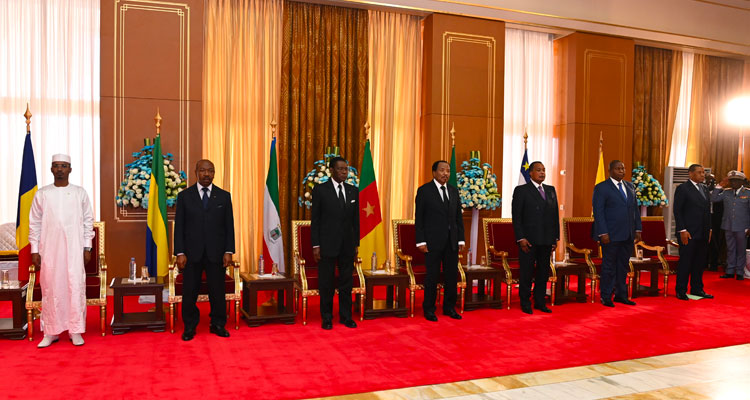 Leaders of the Central African Economic and Monetary Community (CEMAC) met in Yaounde on 17 March 2023 for the 15th ordinary session of the Conference of Heads of State. The sub-regional conclave, organised at Unity Palace, was chaired by His Excellency Paul BIYA of Cameroon.
Those present in the first face-to-face gathering since the outbreak of the COVID-19 pandemic were: H.E Faustin-Archange Touadera of the Central African Republic; the transitional president of Chad H.E. General Mahamat Idriss Deby Itno; H.E Denis Sassou-Nguesso of the Republic of Congo; H.E Ali Bongo Ondimba of the Gabonese Republic; and H.E Teodoro Obiang Nguema Mbasogo of Equatorial Guinea.
In his opening speech, President Paul BIYA urged CEMAC authorities to focus on the implementation of the second-generation Regional Economic Programme, which is centred on a portfolio of 12 priority integrative projects aimed at fast-tracking physical and trade integration.
"We will also need to accelerate the release of the CEMAC biometric passport," he added.
All these actions, he emphasised, will foster better intermeshing of Member States, increase movement of people and goods as well as improve the performance of the common market.
Professor Daniel Ona Ondo, the outgoing chairperson of the CEMAC commission presented the final communique during the closing phase of the session. 
It was revealed that the CEMAC leaders endorsed reforms to: strengthen sub-regional integration; boost the economies of member States following the impact of the COVID-19 pandemic and the conflict between Russia and Ukraine; and reinforce security ties.
Other issues addressed include the fight against terrorism in the Lake Chad area by Boko Haram, piracy in the Gulf of Guinea, trans-border crime, the socio-political crises in some countries, and the appointment of CEMAC officials.
The leadership role of the CEMAC Heads of State Conference was transferred from President Paul BIYA to H.E Faustin-Archange Touadera of the Central African Republic.