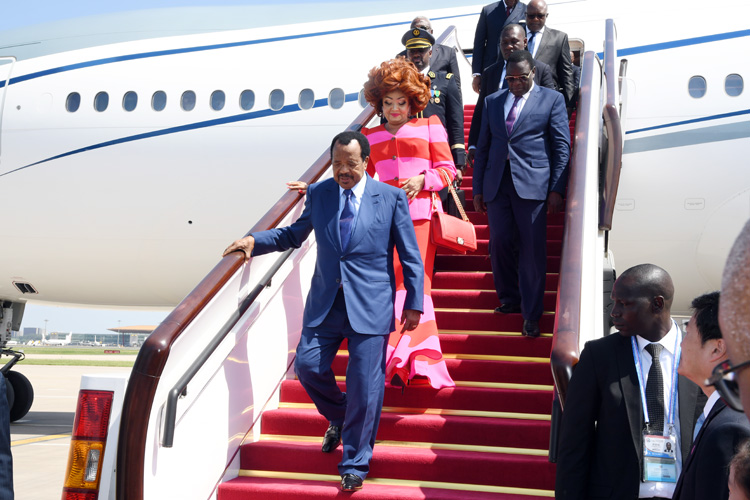 The President of the Republic, His Excellency Paul BIYA is in Beijing, venue for the third Summit of the Forum on China-Africa Cooperation (FOCAC). The Head of State, accompanied by his wife - First Lady Chantal BIYA arrived at the Beijing International Airport on Friday 31 August 2018, at midday local time.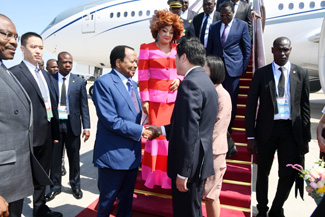 A senior Chinese official of the Beijing municipal council, the Chinese Ambassador to Cameroon, and Cameroon's Ambassador to China were among top personalities who welcomed the Presidential Couple and their delegation at the airport.
A crowd of Cameroonians based in China, mostly members of the ruling CPDM party, students and staff of Cameroon's embassy, reserved a more vibrant reception at the entrance of the Saint Regis Hotel, official residence of the Presidential Couple throughout the 2018 FOCAC Summit. Members of the Head of State's delegation and senior staff of the hotel greeted the Presidential Couple at the lobby before they moved to their suit.
This marks H.E. Paul BIYA's seventh visit to the People's Republic of China, which is a strategic partner in Cameroon's drive towards an emerging economy by 2035.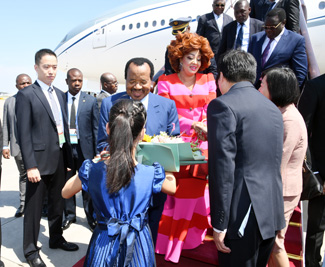 The Cameroonian leader's programme effectively begins today. President Paul BIYA will hold bilateral talks with his Chinese counterpart - President Xi JINPING - at the Great Hall of the People. This is aimed at sharpening the long-standing and excellent ties existing between both countries, and strategising on the evolution of China's Belt and Road Initiative.
Thus, three draft agreements on the restructuring of Cameroon's debt, judicial cooperation, and the emergency humanitarian assistance plan for the population of the North-West and South-West Regions are expected to be signed after their discussions.
On her part, Mrs Chantal BIYA will attend a meeting on the fight against HIV/AIDS, organised by Mrs Peng Liyuan - the First Lady of China, on 4 September.
Cameroonian entrepreneurs have equally been invited to a forum that will bring together policy makers from China and Africa on the one hand and Chinese and African business owners on the other.