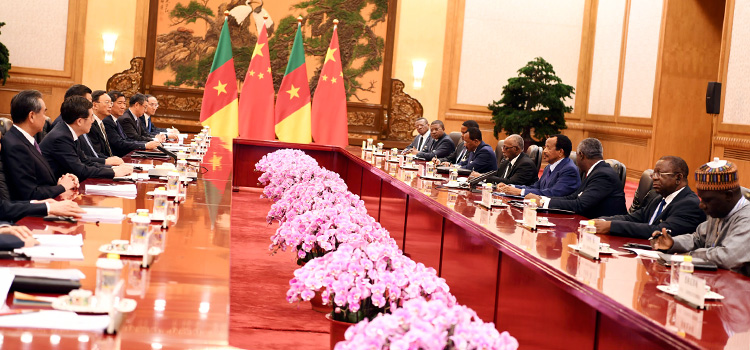 Cameroon's 47-year-old diplomatic ties with the People's Republic of China has witnessed a major boost. This is the outcome of a high-level meeting between President Paul BIYA and His Excellency Xi JINPING on 31 August 2018 in Beijing.
Both leaders met at the Great Hall of the People on the sidelines of next week's Summit of Heads of State and Government of the Forum on China-Africa Cooperation (FOCAC).
In his welcome address, President Xi JINPING appreciated the cooperation agreements signed during President Paul BIYA's State Visit in March 2018. He noted that China is willing to deepen ties with Cameroon, especially within the framework of the 2018 FOCAC summit. The Chinese Head of State said President Paul BIYA's presence is a fulfilment of his promise made in March.
In response, H.E. Paul BIYA extended his profound gratitude to the friendly people of China for their special hospitality. He reviewed the accords signed last March and appealed for the "total or partial cancellation" of Cameroon's debts to China.
The Head of State commended China's 20 million Yuan contribution for the emergency humanitarian assistance plan that he initiated for the population in the North-West and South-West Regions.
"Cameroon would like to count on China's tangible support to preserve its unity and to forge ahead on the path to progress in a decentralised unitary State," he concluded.
Two agreements were signed during this strategic meeting. These include: a Memorandum of Understanding on China's Belt and Road Initiative; and a Technical Cooperation on the Ninth Phase of a health convention aimed at upgrading facilities at the Gyneco-Obstetrics and Pediatrics Hospital in Yaounde, the Regional Hospital Annex in Buea, and that of Mbalmayo.
In addition, China has promised financial assistance for the construction of three economic development projects as requested by President Paul BIYA in his declaration to H.E. Xi JINPING. These are: phase two of the Yaounde-Douala motorway; the motorway from Yaounde city centre to the Nsimalen International Airport; and the motorway from Edea to Kribi, where the largest deep seaport in Central and West Africa is located.
President Paul BIYA's day rounded off in Diayutai, where he attended a dinner offered by the Chinese President.