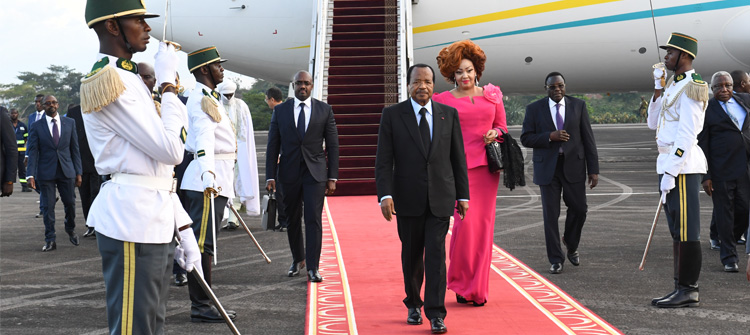 The President of the Republic, His Excellency Paul BIYA and his wife – Mrs Chantal BIYA have returned to Cameroon after participating at the Beijing Summit of Heads of State and Government of the Forum of China-Africa Cooperation (FOCAC). Their special plane alighted at the Nsimalen International Airport at 5:22 p.m.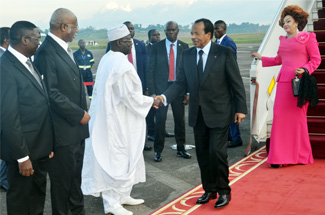 After descending the plane's staircase, the Presidential Couple were warmly welcomed by the following personalities: the Speaker of the National Assembly – Right Honourable Cavaye Yeguie Djibril; the Prime Minister, Head of Government – H.E Philemon Yang; the Secretary General of the Presidency of the Republic – Minister Ferdinand Ngoh Ngoh, the First Vice President of the Senate – HRH Aboubakary Abdoulaye; and the Chinese Ambassador to Cameroon – H.E. Wang Yingwu.
H.E. Paul BIYA and First Lady Chantal BIYA moved to the Presidential Pavilion, where the Head of State granted separate audiences to the same officials who welcomed him upon arrival. Mrs Chantal BIYA also met the wives of her husband's close collaborators in an adjacent room.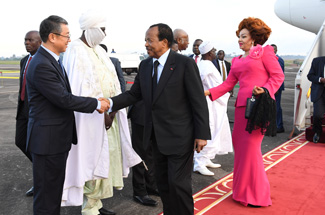 It is worth noting that the Head of State's audience with Ambassador Wang Yingwu was of upmost importance. Sino-Cameroon relations were raised to a higher echelon during President Paul BIYA's high-level exchange at the Great Hall of the People in Beijing. Chinese President Xi Jinping equally promised to assist Cameroon in its steady drive towards an emerging economy by 2035 through the Belt and Road Initiative.