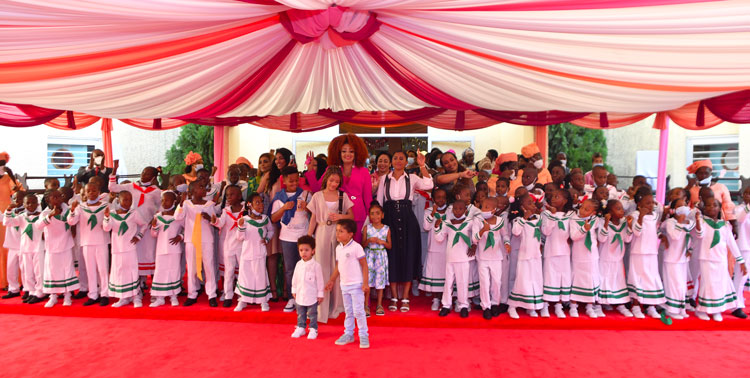 The current/former pupils and staff of "Les Coccinelles" School Complex of the Unity Palace have expressed their sincere gratitude to First Lady Chantal BIYA for her unconditional and constant support towards academic excellence. This was during a colourful end-of-year ceremony organised at the campus of the institution on 23 June 2022.
Clad in their official uniforms, the current pupils praised and entertained their patroness and her guests through astonishing performances characterised by beautiful songs, recitations, ballet and traditional dances.
It was a wonderful comeback and enchanting moment for all the stakeholders to celebrate the traditional send-off with Mrs Chantal BIYA – after two years of interruption due to the COVID-19 pandemic. A satisfactory balance sheet of the 2021/2022 academic year was equally presented by the headmaster to highlight the brilliance and assiduity of "Les Coccinelles" – who were all promoted.
Mrs Chantal BIYA, in her typical and motherly posture, shared gifts – with the assistance of her special guests – to all the meritorious pupils. Business proceeded with the First Lady's guided tour to all the classrooms to see the works of the pupils. She seized the opportunity to congratulate them and dish out words of encouragement for the next academic year.