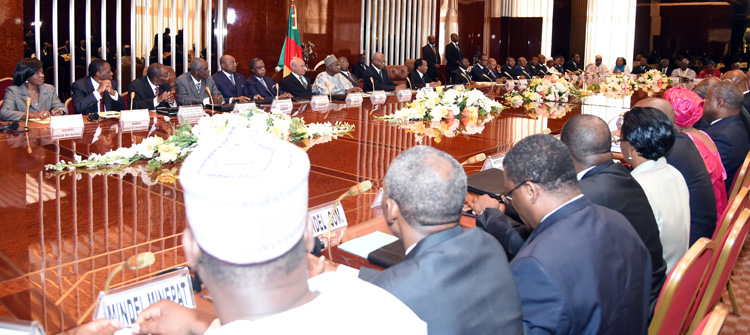 The President of the Republic, His Excellency Paul Biya, chaired an important Council of Ministers meeting today, Tuesday, 9 December 2014 from 12 noon at Unity Palace. The meeting was devoted to the Emergency Plan for the Acceleration of Growth in Cameroon.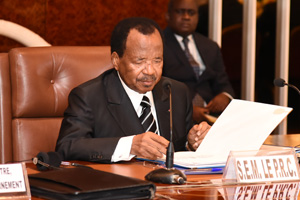 Besides the Head of State's closest aides, the meeting was attended by the Prime Minister, Head of Govemment, the Vice-Prime Minister, Ministers of State, Ministers, Ministers Delegate and Secretaries of State. 
Two items featured on the agenda of the meeting, namely: 
-The presentation by the Prime Minister, Head of Govemment, of the «Emergency Plan for the Acceleration of Growth»; and
-The Special Statement by the President of the Republic. 
In his presentation, the Prime Minister, Head of Government, set out the broad 
outline of the Emergency Plan which comprises a Three- Year Investment Programme in sectors such as urban development, health, agriculture and livestock, road infrastructure, water, energy and security.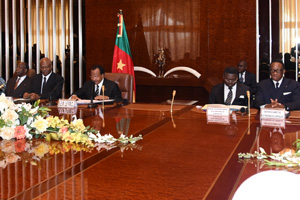 This special programme, evaluated at CFAF 925 billion, is financed through the mobilization of the required resources from local and international financial institutions at sustainable rates. 
The Emergency Plan will be implemented in partnership with the private sector through a rigorous process for the award of contracts to enterprises with the technical and financial capability to implement the corresponding projects with the required professionalism. 
ln his Special Statement, the Head of State stressed that the primary aim of the Emergency Plan is to step up national economic performance and 'improve the living conditions of the Cameroonian people so as to achieve the objective of becoming an emerging country by 2035.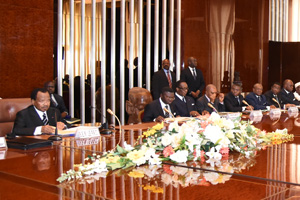 In this regard, the Head of State urged the Government to take up the major challenge of implementing the Emergency Plan in a prompt and responsible manner. The Emergency Plan supplements Ministerial roadmaps which must continue to be implemented diligently and methodically. 
The substantial resources secured to finance the Emergency Plan must be used judiciously and within prescribed timeframes to ensure project profitability and optimum positive spinoffs for the nation's economy. On this point, the Head of State called on the relevant Government services and bodies to be vigilant in supervising public contracts to ensure their seamless execution. 
On a general note, the Head of State reiterated to the Government his instructions regarding the improvement of government spending, in an international context marked by scarce financial resources.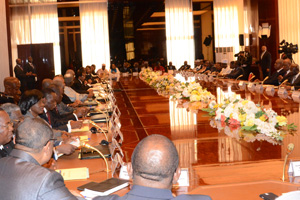 To that end, he directed the Government to take urgent measures to cut public spending by substantially reducing non-essential expenditure and allocating the resources so derived to finance major projects in the general interest and improve the well-being of the population. 
Lastly, the Head of State urged the Members of Government to cultivate the «spirit of reform» which must remain a constant in government action. 
The Council rose at 12.30 pm.