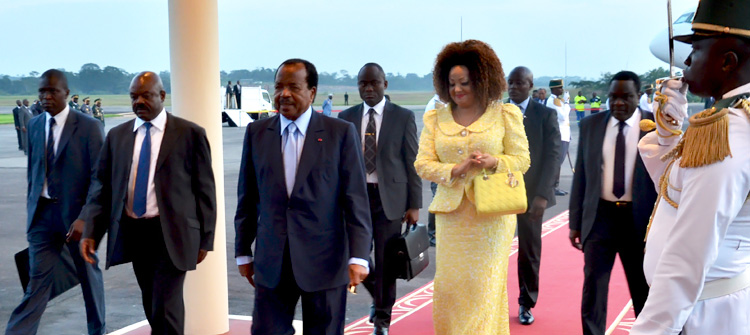 The Head of State His Excellency Paul BIYA and Madam Chantal BIYA returned to Yaounde on Friday 20 November 2015 after their successful attendance of the 38th UNESCO conference in Paris that also marked the 70th anniversary of the organisation.
Highlights of the participation of President Paul BIYA include the speech he made at the opening of the Leaders Forum and the audience with the Director General of UNESCO, Madam Irina BOKOVA. Cameroon also scored other major victories at the conference as Professor Ebenezer NJOH MOUELLE was elected as board member of the executive council of UNESCO for a four year mandate, amongst others.
On arrival at the Nsimalen International airport, the Presidential Couple was received by senior state dignitaries, notably the President of the Senate, Marcel NIAT NJIFENJI; the Speaker of the National Assembly, CAVAYE YEGUIE DJIBRIL; Prime Minister, Head of Government Philemon YANG; the Secretary General at the Presidency of the Republic, Ferdinand NGOH NGOH and the French Ambassador to Cameroon, Christine ROBICHON.
President Paul BIYA received the personalities for some updates, while the First Lady and the wives of the close collaborators of the Head of State exchanged tit bits in a lighter mood. The Presidential motorcade then drove into town and back to Unity Palace.
At the end of it all, there is total satisfaction with the presence and influence of Cameroon in the international community in general and within the United Nations system in particular.