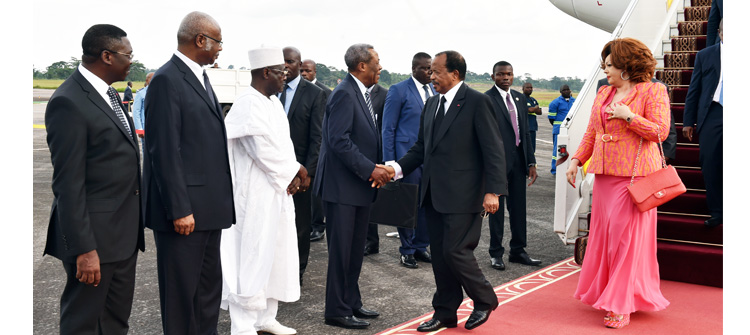 The Head of State, His Excellency Paul BIYA, and his wife Mrs. Chantal BIYA are back in the nation's capital after a trip during which he attended the UN General Assembly in New York and then proceeded to Europe. On arrival at the Nsimalen International airport in Yaounde this evening (Sunday 23 October 2016), President Paul BIYA expressed his sympathy to the families who lost their loved ones in the train derailment in Eseka.
The President of the Republic was welcomed on arrival by senior state personalities: the President of the Senate, Marcel NIAT NJIFENJI; the Speaker of the National Assembly, CAVAYE YEGUIE DJIBRIL; the Prime Minister Head of Government, Philemon YANG; and the Secretary General at the Presidency of the Republic, Ferdinand NGOH NGOH. President Paul BIYA granted brief audiences to these personalities before speaking to the press.
H.E. Paul BIYA expressed his deepest sympathy to the families of the victims of the Eseka train accident. He assured Cameroonians that he has given firm instructions to the Government for inquiries to be conducted and to ensure that the matter be handled with utmost urgency so as to bring quick remedy to the population.
It should be recalled that the Head of State signed a Decree to declare a national day of mourning in the wake of the ghastly train accident in Eseka which claimed many lives.
Meanwhile, the wives of the close collaborators were in company with Madam Chantal BIYA in an adjacent room of the Presidential Lodge. 
It was in a solemn atmosphere that the motorcade of the Presidential Couple headed for the Unity Palace.