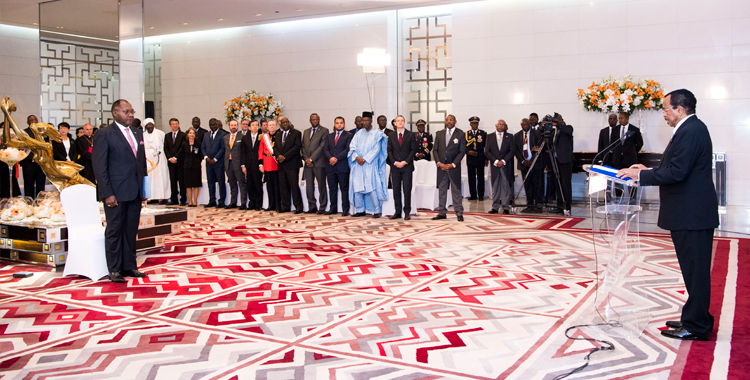 Members of the Diplomatic Corps and National Dignitaries presented New Year wishes to the President of the Republic, His Excellency Paul BIYA on 9 January 2019.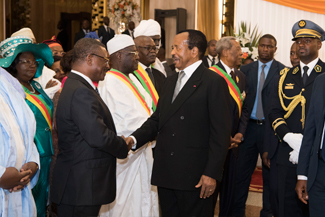 The ceremony began with a solemn and traditional gathering at the Hall of Ambassadors of the Unity Palace – where Ambassadors, High Commissioners, Chargés d'Affaires, and Representatives of International Organisations exchanged New Year greetings. An introductory statement was addressed to the Head of State on behalf of the Diplomats by the Dean – His Excellency Paul Patrick BIFFOT, Gabonese Ambassador to Cameroon. He extended warm regards to the Presidential Couple and commended the humanitarian activities of First Lady Chantal BIYA.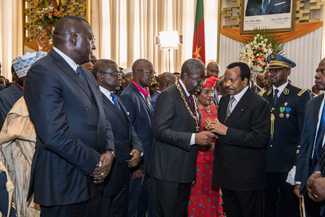 H.E. Paul Patrick BIFFOT congratulated the Head of State for his re-election during the 7 October 2018 presidential election. He argued that this was as a result of his force of experience. The Gabonese Ambassador also hailed the maturity and determination of Cameroonians who always strive to live together. The appeasement measures taken by the Head of State to resolve the socio-political situation in the North-West and South-West Regions were highly praised by the Diplomatic Corps. These include: the setting up of the emergency humanitarian assistance plan; the liberation of detainees, the creation of the National Commission on the Promotion of Bilingualism and Multiculturalism, and the establishment of the National Disarmament, Demobilisation and Reintegration Committee.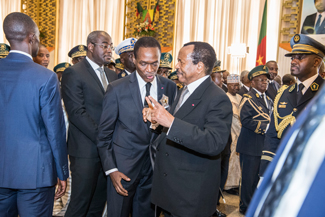 Ambassador BIFFOT emphasised that they are ready to accompany Cameroon on its path to lasting stability and peace. He appealed for the acceleration of the decentralisation process and more accessibility to humanitarian actors in the North-West and South-West Regions.
In response, President Paul BIYA expressed his gratitude to the Members of the Diplomatic Corps for their wishes to Cameroonians and the Presidential Couple.  
He proceeded with an in-depth review of Cameroon's relation with the international community. The Head of State demonstrated his mastery of the current international geostrategic compass on global governance. He lauded the efforts of the Multinational Joint Task Force of the Lake Chad Basin against Boko Haram and highlighted Cameroon's mutually beneficial cooperation with China, Japan, South Korea, and the African Union.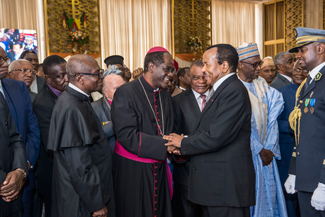 H.E. Paul BIYA equally raised burning issues linked to climate change, protectionism, migration, nationalism, populism, the UN Security Council, G20, and NATO.
A few minutes later, President Paul BIYA moved to the Banquet Hall for the second phase of the ceremony. Here, National Dignitaries, grouped in 33 delegations, had an opportunity to extend wishes to the Head of State.