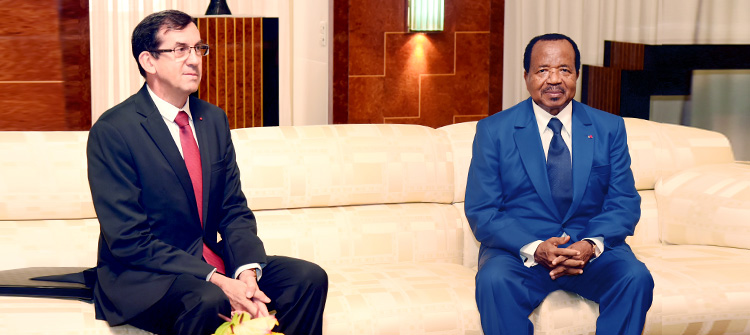 The President of the Republic of Cameroon, His Excellency Paul BIYA has held talks with the French Ambassador to Cameroon, Gilles Thibault. They met at the Unity Palace on Tuesday 30 May 2017.
They discussed the results of the French Presidential elections that ended with the election of President Emmanuel MACRON; the upcoming French legislative elections; the NATO summit in Brussels; the G7 summit in Sicily; the common fight against terrorism and the inquiry report of the CAMRAIL derailment at Eseka.
Speaking to reporters after the audience, Ambassador Gilles Thibault hinted at a possible meeting between the French and Cameroonian Heads of State after the June legislative elections.  
Gilles Thibault also stated that he submitted a report to President Paul BIYA about his recent journey to the Far North Region, which has been affected by the Boko Haram insurgency.  
"It was an opportunity to speak one more time about our common fight against terrorism," he said.
The French Diplomat also applauded the logical significance of the inquiry report following the CAMRAIL train accident at Eseka.