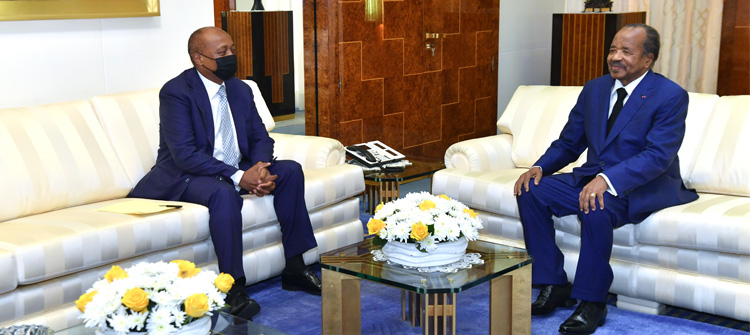 Cameroonians and Africans at large have once more been assured by CAF authorities that the Africa Cup of Nations will hold as scheduled in Cameroon from the 9th of January to 6th February 2022 as scheduled. Mr. Patrice MOTSEPE was speaking at Unity Palace on Tuesday 21 December 2021 after an audience granted to CAF officials by the President of the Republic, His Excellency Paul BIYA.
Speaking to reporters after discussions with the Head of State this afternoon that lasted almost an hour, CAF President Patrice MOTSEPE declared that he was particularly happy with the commitment of President Paul BIYA for the success of the tournament. He indicated that he reviewed the infrastructure yesterday and today was more concerned with measures to meet the challenges raised by the omicron COVID-19 variant.
Patrice MOTSEPE appealed to Africans to have faith in themselves and to work together to achieve success: "The most important thing is what I said yesterday. We have to have confidence. We have to believe in our ability as Africans working together…and in the context of AFCON to work together recognising the huge obligation to health, safety and also to protect and secure the lives of spectators, guests, players and officials who will be coming to the games."
On the participation of players for European based clubs, the CAF President was equally emphatic: "We want our players from Africa to play in Europe and do well and to play worldwide and we also want to build African football in its own right. It can become a centre for global excellence. So we will be engaging with all of the clubs and we are guided by the rules. We have to follow the rules of FIFA.
It is very important because we cannot always allow Africa to come at the end and to be at the back. This is a new generation. We have to allow our people to work together for our children and to create confidence so that the young boys and girls who want to watch Eto'o can do so."
The CAF President was accompanied to the audience at Unity Palace by the Senegalese Vice President of CAF Augustin Senghor, the Secretary General of the federation, Veron Mosengo-Omba from DR Congo and the newly elected president of FECAFOOT and world renowned football star, Samuel Eto'o Fils.