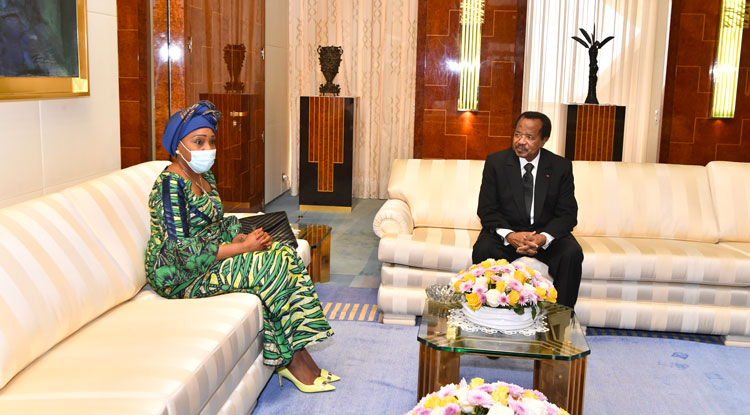 The Congolese Minister of Economy, Planning, Statistics and Regional Integration Ingrid Olga Ghislaine Ebouka-Babackas was received in audience by the President of the Republic, His Excellency Paul BIYA on 14 June 2022.
President Denis SASSOU NGUESSO's envoy was bearer of a sealed message, which she delivered to the Head of State during a one-hour meeting at the Unity Palace.
Speaking to reporters at the end of the audience, Minister Ingrid Olga Ghislaine Ebouka-Babackas said it was an honour to be received by the Head of State. She equally hailed the historic and excellent cooperation ties that exist between Cameroon and Congo-Brazzaville.
She noted that both Heads of State have maintained fraternal relations characterised by frequent exchanges on current problems and major issues at the bilateral and multilateral levels.
"The two countries are in the CEMAC and the ECCAS, which are both reasons for our two Heads of State to consult each other," she said. The Congolese envoy also highlighted the growing food crisis caused by the conflict in Europe.
In conclusion, Minister Ingrid Olga Ghislaine Ebouka-Babackas said she was leaving satisfied with the cordial response of President Paul BIYA.
"We are leaving this audience, perfectly reassured that the quality of the cooperation that exists between our two countries is intact. We are therefore going back to our own Head of State to convey to him the greetings and words that confirm the excellence of the relationship that exists between these emblematic figures in the sub-region".