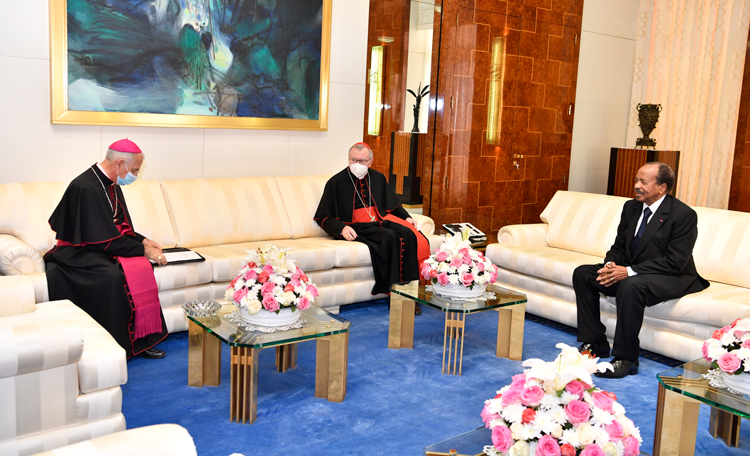 Vatican's Secretary of State Cardinal Pietro Parolin was received in audience by President Paul BIYA at the Unity Palace on 29 January 2021.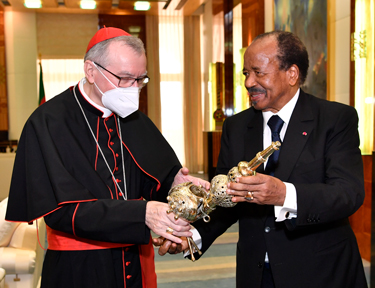 The special emissary of His Holiness Pope Francis was bearer of a message of reconciliation and peace for the people of Cameroon.
"I am here to manifest the attention and solidarity of Pope Francis towards Cameroon," the Secretary of State Pietro Parolin told reporters at the end of the one-hour audience.
The top official of the Holy See said they cordially discussed on a wide range of issues including the socio-political situation in the South-West and North-West Regions of Cameroon.
He reassured the Head of State of the willingness of the Catholic Church and the Bishops of both regions to contribute towards achieving a lasting solution.
"What we are looking for is reconciliation and peace especially in this present situation of other crisis like the COVID-19 pandemic," he explained.
His Eminence Cardinal Pietro Parolin stressed on the importance of achieving peace – the only condition for the attainment of sustainable development.
Cardinal Secretary of State Pietro Parolin is in Cameroon for a six-day working visit. He will celebrate the Eucharist in the Cathedral of Bamenda, during which he will impose the pallium on the Archbishop of the Diocese, Andrew Nkea Fuanya. He will equally visit the "Household of Hope" centre for street children and young prisoners in Yaounde.