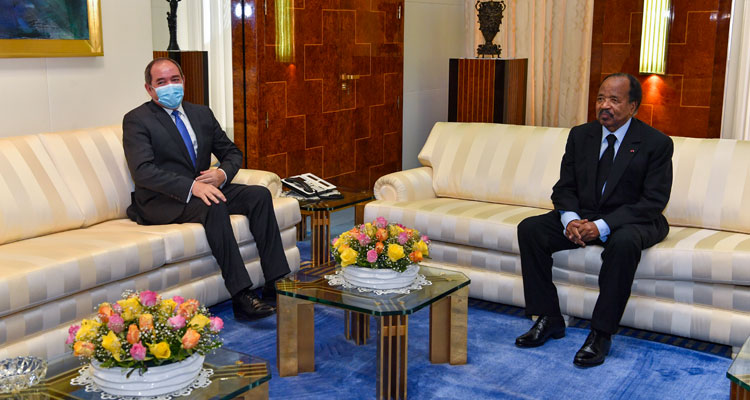 The interest to strengthen bilateral relations between the Republic of Cameroon and the People's Democratic Republic of Algeria was at the centre of discussions at the Unity Palace on 24 March 2021. This was during an audience granted by the President of the Republic, His Excellency Paul BIYA to Algeria's Minister of Foreign Affairs, H.E. Sabri Boukadoum – special envoy of President Abdelmadjid Tebboune.
Sabri Boukadoum told reporters after the 45-minute audience that he was bearer of special greetings from President Abdelmadjid Tebboune to his Cameroonian counterpart. He said it was equally an occasion to deliver to President Paul BIYA an invitation for a State visit to Algeria.
The Algerian emissary noted that he was honoured to have been received by the Head of State and appreciated the President Paul BIYA's vision for a united and prosperous Africa. Sabri Boukadoum said they exchanged on a wide range of issues including terrorism in the Sahel, peace and stability in Africa, and the importance of the African Continental Free Trade Area (AfCFTA).
The Algerian Special envoy hinted that the advent of the coronavirus pandemic (COVID-19) has halted the implementation of the bilateral air transport agreement between Yaounde and Algiers. He however expressed optimism that both parties will benefit from reciprocal investments such as the Trans-Sahara Highway Project.