The strong and cordial relations that bind Cameroon and Israel were at the centre of discussions between the President of the Republic His Excellency Paul BIYA and the out-going Israeli Ambassador to Cameroon H.E. Ran GIDOR, following the audience at Unity Palace on Tuesday 17 December 2019.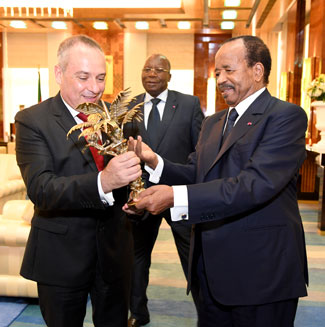 Speaking to the press at the end of the audience, the Ambassador of Israel to Cameroon expressed his great satisfaction and feeling of honour to be received by the Head of State at the Unity Palace. The Israeli Ambassador lauded the excellent cooperation between Cameroon and Israel. He pointed out that at the bilateral level, his country and Cameroon had cooperation in the domains of education, health, entrepreneurship and innovative technologies. At the multilateral level, Israel always benefitted from the support of Cameroon.
The Ambassador of Israel to Cameroon expressed the desire that the Head of State should visit the holy land for a pilgrimage.
The out-going Israeli Ambassador has served in Cameroon for three years. He presented his letters of accreditation to the President of the Republic in November 2016.