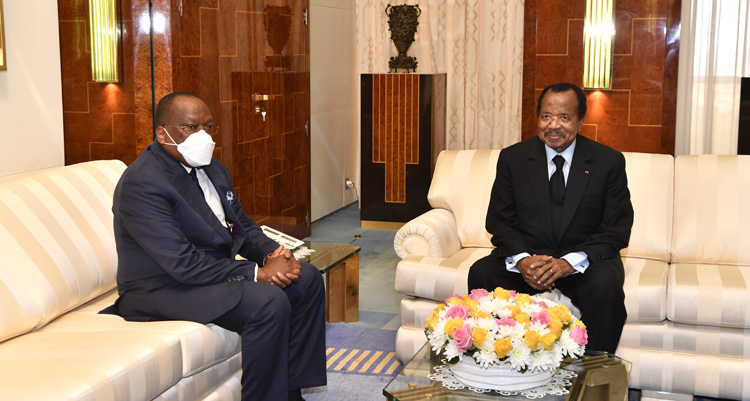 The President of the Republic, His Excellency Paul BIYA granted a farewell audience to François Louncény Fall, Special Representative of the UN Secretary-General and Head of UNOCA (United Nations Regional Office for Central Africa) on 2 June 2022.
Mr François Louncény Fall was decorated by the Head of State with a medal of Grand Officer of the National Order of Valour.
In a press briefing following the one hour audience, the UN official expressed his gratitude to President Paul BIYA. He said he accepted the prestigious distinction on behalf of UN Secretary General António Guterres because he was convinced that Cameroon and the UN continue to share excellent ties.
"It is also a sign for the esteem and high consideration that President Paul BIYA and UNSG António Guterres have on my person," he explained.
The UN Diplomat said his five-and-a-half-year mission to Central Africa was an enriching experience.
The President of the Republic and his guest held an in-depth discussion on the evolution of the sub-region.
"I admired the Head of State's mastery of the current state of affairs," Mr François Louncény Fall said.
He praised the reforms made by ECCAS (Economic Community of Central African States) to strengthen sub-regional integration. This he said will be a springboard for economic development and the preservation of peace and security – to curb threats such as terrorism and maritime piracy.
He said he was leaving a region whose drive towards integration is on a good path, as per the agenda of the African Union, due to its human and economic potential.
Both personalities equally exchanged views on the socio-political situation in Cameroon.
The outgoing UNOCA boss transmitted the UNSG's high appreciation to President Paul BIYA and his encouragement for all the efforts that the Government of Cameroon is deploying to attain the objectives of sustainable development, stability and peace in the country.
Mr François Louncény Fall disclosed that the Head of State is committed, like in June 2020 when they last met, to implement the recommendations of the Major National Dialogue aimed at safeguarding the unity and stability of Cameroon. He equally commended the measures taken by the Government to stabilise the situation in the North-West and South-West Regions.