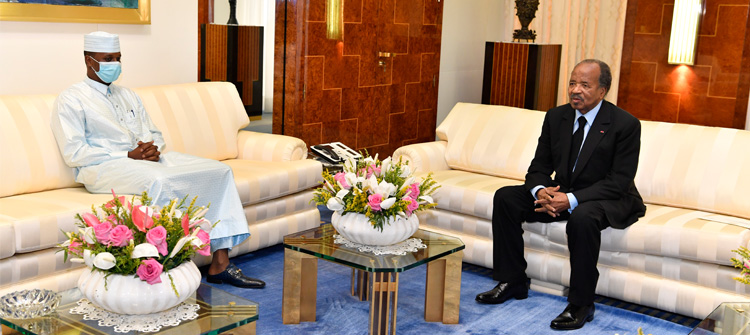 Abdelkerim Deby, special envoy of Chad's Transitional Military Council was received in audience by the President of the Republic, His Excellency Paul BIYA on 7 May 2021.
The one-hour meeting at the Unity Palace was marked by the presentation of a sealed envelope from General Mahamat Idriss Deby, President of the Transitional Military Council of Chad.
Speaking to reporters after the audience, Abdelkerim Deby appreciated the excellent and fraternal cooperation ties that exist between the Republic of Cameroon and the Republic of Chad. He said the meeting with the Head of State has reinforced the sense of fraternity among both countries.
The Chadian emissary said he was on a sub-regional tour to recount the circumstances that led to: the tragic death of the Field Marshal of Chad, H.E. Idriss Deby Itno – who passed away at the warfront; and the establishment of the Transitional Military Council of Chad.
Abdelkerim Deby said the current Chadian authorities have decided to meet the leaders of the Member States of sub-regional organisations in order to explain the plan for a peaceful transition. He said the scheme will end with the organisation of free and fair elections and a rapid return to civilian rule.