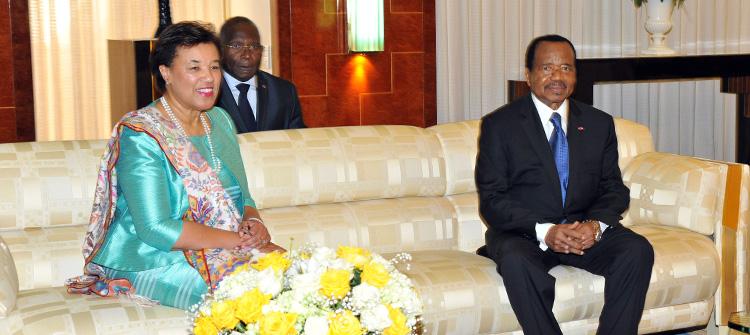 On the second day of her official visit to Cameroon, the Commonwealth Secretary-General – Right Honourable Patricia Scotland QC was received in audience at the Unity Palace by the President of the Republic, His Excellency Paul BIYA on 19 December 2017.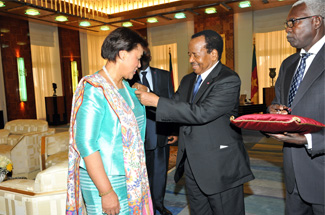 Their tête-à-tête was cordial. The Head of State and his guest reviewed the rich and fruitful cooperation between Cameroon and the Commonwealth since the former's accession to the Gentlemen's Club in 1995.
As Rt. Hon. Patricia Scotland later revealed in her speech at the State luncheon offered by the Presidential Couple, "Cameroon is a very important and much treasured member of the Commonwealth family". At the end of the audience, the Commonwealth SG was decorated by the Head of State with the rank of Grand Officer of the Order of Valour – the highest honour awarded to a foreign dignitary.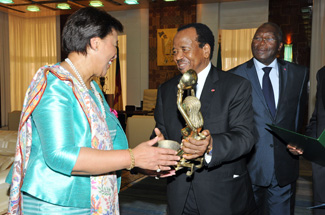 During his toast at the State luncheon, the Head of State took stock of the socio-political and economic situation of the country marked in particular by: the war against the terrorist group Boko Haram; and the grievances raised by trade unionists in the North-West and South-West regions, which has been hijacked by terrorists linked to secessionist groups that have attacked and killed some law enforcement officers. He also talked about the economic situation in Cameroon. President Paul BIYA recalled all the measures taken by the Government to appease the situation in the North-West and South-West Regions. He reiterated his willingness to dialogue, but he also stood firm on his determination to "restore order and punish those guilty of these murders".
On her part, the Commonwealth SG expressed "great sadness" on the face of the difficulties currently faced by Cameroon; a country known as a haven of peace and stability. She urged Cameroonians "to embrace peace, unity; and resolve any differences through peaceful dialogue."
According to Rt. Hon. Patricia Scotland, "a prosperous Cameroon, is a prosperous Africa, and a prosperous Commonwealth."