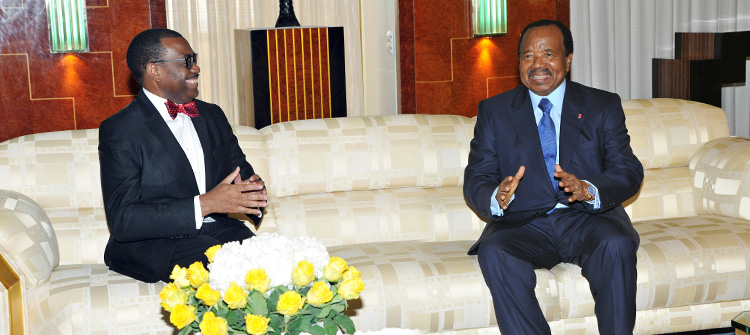 Dr. Akinwumi Adesina, President of the African Development Bank Group (AfDB) has congratulated the President of the Republic of Cameroon, His Excellency Paul BIYA for his leadership in Africa.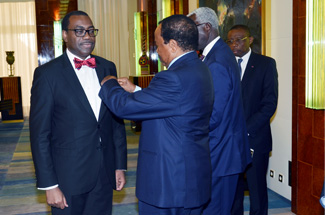 The AfDB boss was received in audience by the Head of State on Monday 17 July 2017 at the Unity Palace.
Both personalities reviewed the 45-year-old cooperation that exists between Cameroon and the AfDB. They also discussed key areas of investment such as energy, agro-industrialisation, and regional integration.
Speaking to reporters at the end of the audience, Dr. Akinwumi Adesina lauded the Commander-in-Chief of Cameroon's Armed Forces for the support provided towards the preservation of peace and security in north-eastern Nigeria and the Central African Republic.
He also highlighted President Paul BIYA's contribution in the stabilisation of macroeconomic issues within the CEMAC region, which prevented a devaluation of the CFA Franc.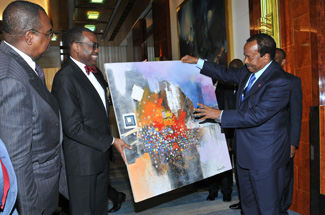 "I encouraged the President to continue with the effort of microeconomic stabilisation and what the government is doing in terms of diversifying the economy," Dr. Akinwumi Adesina said.
He added that: "the AfDB strongly supports Cameroon. We wish the President and the Government all the best with the plan for accelerated development to a middle income country by 2035."
President Paul BIYA exchanged gifts with the distinguished guest, whom he later decorated with a medal of Grand Officer of the Order of Valour.
The AfDB has invested US$ 2.5 billion (approximately CFAF 1,436 billion) in Cameroon since 1972. The group currently supports 22 projects and there are plans to inject US$ 150 million for the realisation of the Natchtigal Dam.