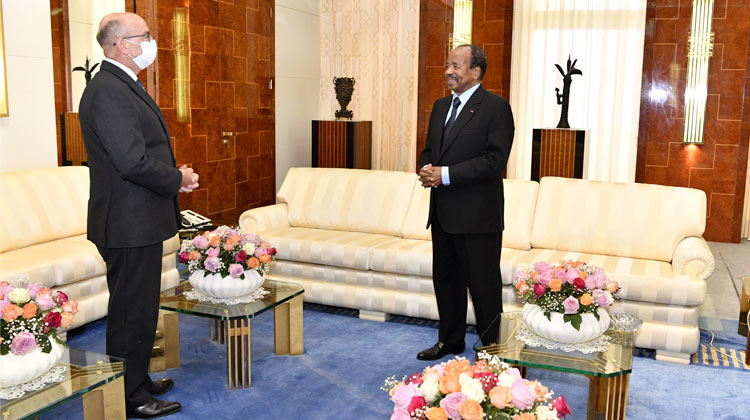 President Paul BIYA and the British High Commissioner to Cameroon – His Excellency Rowan James Laxton met at the Unity Palace on 23 July 2020.
Both personalities covered a wide range of subjects including health, security, economy and the environment.
Speaking to journalists after the one-hour audience, H.E. Rowan James Laxton said they spoke about the health situation in Cameroon that has been affected by the coronavirus (COVID-19).
"I also conveyed my Government's thanks to the Head of State for his support on our conference on global vaccines, which took place in June in London; and the very generous contribution that the Head of State made at that meeting," he revealed.
The security situation in the Far North, North-West and South-West Regions was equally reviewed by President Paul BIYA and the British Diplomat.
H.E. Rowan James Laxton welcomed the measures that the Government has taken and encouraged everybody to go further in an attempt to reach a durable solution, which will return peace and prosperity to the country.
"We talked about the economy and the way in which British companies can contribute towards achieving the President's own vision," he added.
Lastly, they discussed about a number of global challenges where the UK and Cameroon are working together such as the Commonwealth and the 2021 United Nations Climate Change Conference (COP 26), which is due to take place next year in Glasgow.