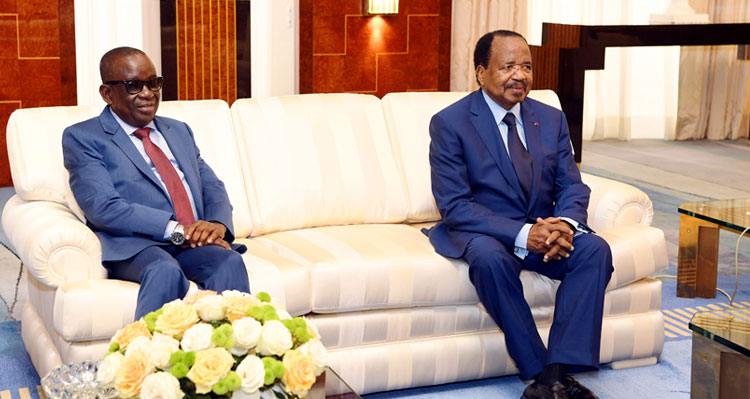 President Nana Akufo-Addo of the Republic of Ghana has sent a letter to the President of the Republic, His Excellency Paul BIYA.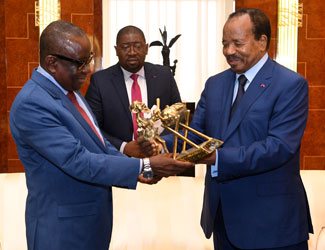 A sealed envelope containing the special message from Accra was presented to the Head of State on 14 June 2019 by the brotherly country's Minister for National Security, Albert Kan-Dapaah.
Both personalities seized the opportunity to discuss on a number of issues beyond the message conveyed on behalf of President Akufo-Addo.
In a brief with reporters, Minister Albert Kan-Dapaah expressed his delight for the warm reception at the Unity Palace and the cordial exchanges with President Paul BIYA.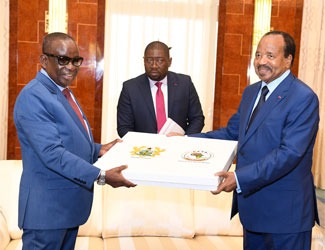 "I have benefitted greatly from his wide experience and knowledge in the political affairs of the continent and also in the sub-region," he explained.
The Ghanaian emissary appreciated the Cameroonian Head of State's vision for a viable economic zone within the sub-region.
He also welcomed the idea for countries of the sub-region to work collectively towards the resolution of contemporary security challenges in Africa.
Minister Albert Kan-Dapaah concluded with a comprehensive remark on the recent decision by Ghana and Côte d'Ivoire to halt the sale of cocoa beans.